OPEC and Your Gas Tank Offer Some Hope for a Stalled Crude Rally
(Bloomberg) -- With oil poised for its second weekly loss in a row, some analysts say there may be life yet in crude's 2019 rally.
The reasons for optimism start with OPEC leader Saudi Arabia, which has hinted it may push for an extension of supply cuts with Russia and other major producers, even as U.S. sanctions restrict barrels from Iran and Venezuela.
U.S. refineries, meanwhile, should be ramping up demand ahead of the summer driving season after an unusual mix of accidents, bad weather and maintenance slowed activity. That should start to reverse the surge in U.S. inventories that's unnerved investors.
"The economy is strong, and the surprise increases are mainly due to transitory factors," said Phil Flynn, senior markets analyst at Price Futures Group Inc. in Chicago.
While crude prices were clearly "in overshoot territory" before the recent dip, "this level of bearishness may be materializing a bit too early," added Bart Melek, head of commodity strategy at Toronto's TD Securities. He warned the market could be "prone to a short squeeze in the coming months."
West Texas Intermediate crude rallied in Friday trading but was still on track for about a 2 percent weekly decline. Its Relative Strength Index, a measure of price momentum, has inched closer to "oversold" in the past week, reaching its lowest point since January.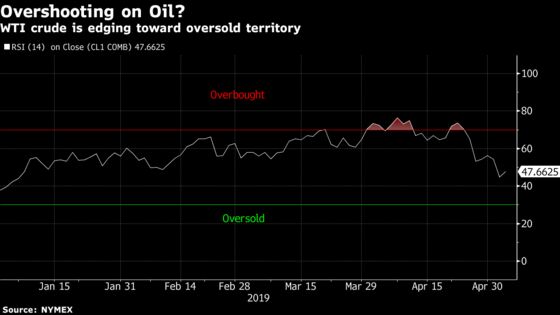 At Citigroup, analysts led by Eric Lee cautioned against reading too much into U.S. stockpiles data for Brent, the international benchmark. Despite falling below $70 a barrel earlier this week, it could surge back toward $75, given a host of geopolitical tensions, the bank said.
"Recent price weakness is unlikely to persist," the analysts wrote in a May 1 note.