OPEC+ Tells Members to Make Pledged Cuts as Surplus Looms Again
(Bloomberg) -- OPEC+ responded to growing concerns that a slowing economy could tip the oil market back into surplus by applying additional pressure to members that haven't implemented their promised production cuts.
It's a familiar refrain from the group, which since its inception in 2016 has struggled to get members including Iraq, Kazakhstan and Russia to live up to their commitments. Oil prices fell.
Ministers who gathered in Abu Dhabi on Thursday didn't discuss deepening the supply curbs set out in last year's agreement, although they could revisit the issue in December, Oman's Oil Minister Mohammed Al Rumhy told reporters after the meeting. Instead they pressed all members to reduce output in line with their existing quotas.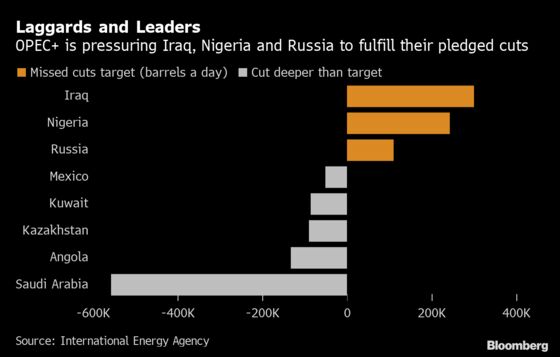 "Every country counts regardless of its size" and should pull its weight, Saudi Energy Minister Abdulaziz bin Salman said at the opening session of the meeting. If the group's laggards caught up and implemented their promised cuts, Al Rumhy said that could remove another 400,000 to 500,000 barrels a day from the market.
Iraq and Nigeria are the worst offenders, having actually increased production since last year's deal. They pledged to reduce daily output from current levels by 175,000 and 56,000 barrels, respectively, by the end of October. Neither of those reductions would bring them back into alignment with their output targets, OPEC data show. Russia also promised to get back in line, after exceeding its quota by about 104,000 barrels a day in August.
"It's voluntary, but of course we will honor our commitment," Iraq's Oil Minister Thamir Ghadhban told reporters after the meeting.
Crude has lurked near $60 for most of the summer, too low to cover the budgets of many nations in the cartel, notably Saudi Arabia. Prices are under pressure as increasing fears of a looming recession prompt downgrades to oil-demand forecasts, while U.S. shale oil production continues to break records.
The Organization of Petroleum Exporting Countries faces a "daunting" task managing the market next year, according to the International Energy Agency. When the current cuts agreement expires at the end of the first quarter of 2020, demand for the group's crude will be about 1.4 million barrels a day below its August output, the IEA estimates. That suggests a need for deeper cuts even if the group can bring all countries in line.
"Soon, the OPEC+ producers will once again see surging non-OPEC oil production with the implied market balance returning to a significant surplus and placing pressure on prices," the IEA said in its monthly oil report.
That's indicative of the uphill battle facing the group. Even as Iran's exports have been slashed by U.S. sanctions, Venezuela's output has slumped amid an economic crisis, and Saudi Arabia has cut three times deeper than initially planned, prices have only been supported at about $60.
Crude came under further pressure on Wednesday after Bloomberg News reported that U.S. President Donald Trump has discussed easing sanctions on Iran to help secure a meeting with President Hassan Rouhani later this month. Any deal that would ease the prohibition on purchases of Iranian crude would only add to the looming 2020 oversupply.
Brent crude, the international benchmark, fell 0.9% to $60.25 a barrel as of 10:53 a.m. in London, the third day of losses.
The meeting in Abu Dhabi of the Joint Ministerial Monitoring Committee, which oversees the OPEC+ deal, discussed the situation in Iran, but there are too many uncertainties to make a decision now, said Prince Abdulaziz.
Saudi Arabia, OPEC's largest producer and defacto leader, said it will continue to bear most of the group's burden. It will pump 9.89 million barrels a day in October and continue that level for the rest of the year. That's an increase of 100,000 barrels a day from what it told the cartel it produced in August, but remains well below the kingdom's official target of 10.3 million barrels a day.
Prince Abdulaziz said that discussion of deeper cuts is possible at the group's next ministerial meeting in December, but he also downplayed concerns about demand forecasts for next year, saying people are being too pessimistic about the trade war.
OPEC+ could be right to "wait and see how macro economy and oil demand develops towards year end," said Helge Andre Martinsen, senior oil market analyst at DNB Bank ASA. "If Iraq and Nigeria start to comply with the cut agreement and Iran and Venezuela continue to decline, we are rather close to a balanced market for 2020."