Ontario Teachers' Cuts Bond Bets After 21% Fixed-Income Gain
(Bloomberg) -- Ontario Teachers' Pension Plan has slashed its holdings of government bonds from developed countries after reaping large gains during last year's plunge in yields.
The pension fund, one of Canada's largest investment managers, eliminated exposure to sovereign debt with negative interest rates and reduced its holdings of the lower-yielding bonds. Teachers' generated more than C$10 billion ($7.9 billion) in investment income from the asset class in the first half of 2020, the fund said in reporting its 2020 results Tuesday.
Its fixed income portfolio gained 20.7%. Such gains won't be repeated any time soon, Ziad Hindo, chief investment officer of the C$221.2 billion ($175 billion) fund, said in a statement.
"With a persistent low interest rate environment expected in the coming years, fixed income will be a less effective source of diversification and returns in the immediate future," Hindo said.
The money that's been pulled out of the fixed income market will be allocated broadly, Chief Executive Officer Jo Taylor said in an interview.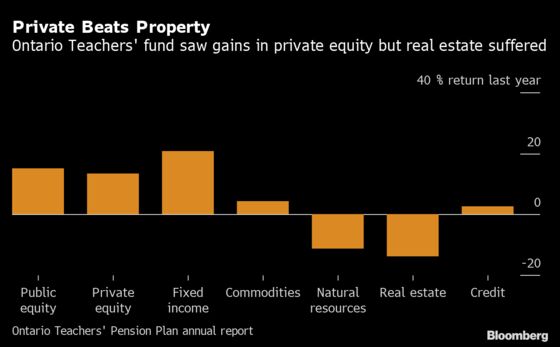 "We've been investing in real assets, which we see as a good alternative to fixed income. We're also building our credit book, and some of it will go into other private investing activities," Taylor said.
"We'll probably broaden out our investing activity in private equity, which has been a brilliant performer for us over many years and also some activities like the Teachers' innovation platform."
Overall, the pension fund earned 8.6% last year, trailing its benchmark by 2.1 percentage points, as gains in fixed income and equities were partially offset by significant losses on shopping malls and other real estate. Strategic allocations to gold and an equity hedge helped returns during a volatile year in which markets were roiled by the Covid-19 pandemic, the fund said.
"This was my first full year as CEO, and it is safe to say it did not go quite as I anticipated," Taylor said in the annual report. "That said, in trying circumstances we demonstrated financial resilience while delivering outstanding service for our members."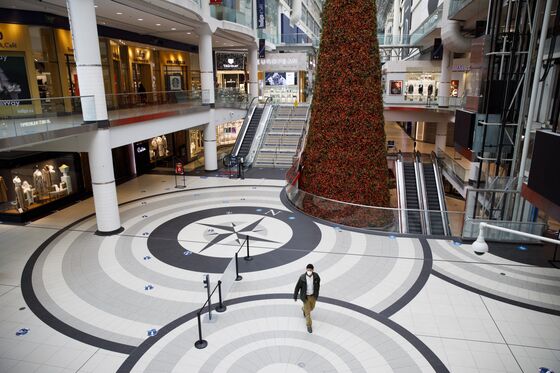 Prompt monetary and fiscal support helped to restart the global economy, allowing many of Teachers' portfolio companies to bounce back quickly, Hindo said. Ontario Teachers' public equity portfolio gained 15.2% while private equity advanced 13.5%.
But its real estate portfolio lost 13.7% due to a writedown on private holdings and declines on international assets.
"It's sort of difficult for shopping malls to have the same performance," Taylor said. "This should be the first to bounce back -- once those malls are open and people return to going shopping as an experience, as well as an activity. The question for us is how we get the right mix of developing assets for sale and developing assets to hold and provide yield."
Operating income for real estate was C$800 million, 30% lower than the previous year, following rent abatements and lower occupancy, particularly for Canadian retail, the fund said. Ontario Teachers' owns Cadillac Fairview, owner of prime malls including Vancouver's Pacific Centre and Toronto's Eaton Centre.
The problems in Canadian malls, as well as a decline in shares of mall owners Macerich Co. in the U.S. and Multiplan Empreendimentos Imobiliarios SA in Brazil and a weaker real, pushed real estate losses to C$4.1 billion for the year.
Teachers' sold its 16.4% stake in Macerich in January when the shares rallied during January's Reddit-inspired frenzy for heavily-shorted stocks.
"The pandemic highlighted the importance of robust portfolio diversification across different assets, geographies and sectors," Hindo said. Teachers' is targeting C$300 billion in net assets by 2030.
The pension fund wants to increase its exposure to real estate and infrastructure, Hindo said, as these assets should play a "critically important role, providing stable cash flow and income that is linked to inflation." Ontario Teachers' has been focused on developing its existing properties in Canada and diversifying in the U.S. and is looking for real estate opportunities in Asia, where it is selecting partners to help it deploy capital.
While it's cutting exposure to government bonds, the pension fund increased investments in U.S. high-yield corporate bonds and partnered with private credit firms to capture default, liquidity and funding risk premiums, the fund said. The total value of credit assets was C$18 billion at the end of the year, compared to C$16.3 billion in 2019.