Only in Leveraged Loans Is a 0.03% Loss Reason to Panic
(Bloomberg Opinion) -- You know a market is hot when investors fret over losses that would look like a rounding error just about anywhere else.
The $1.3 trillion U.S. leveraged-loan market snapped a 14-month win streak in October, falling 0.03 percent, according to the S&P/LSTA Leveraged Loan Total Return Index. Apparently that was enough to spook investors into thinking the party's over. Retail buyers pulled $1.5 billion from leveraged-loan funds in the week through Oct. 31, the fifth-largest exodus ever, according to Lipper data. Mutual funds lost almost $1 billion. In the Invesco Senior Loan exchange-traded fund, known by its ticker BKLN, short interest built up to an unprecedented level after it suffered its biggest outflow ever.
There's been no shortage of people and institutions sounding the alarm on leveraged loans. To name a few: the Bank for International Settlements, Moody's Investors Service, Oaktree Capital Group's Howard Marks, former Federal Reserve officials Janet Yellen and Daniel Tarullo, and, lately, current policy makers at the U.S. central bank. On top of those warnings, which center on weakening investor protections, risky assets took one of their biggest hits in years in October. Treasury yields fell, raising some concern that the Fed would have to stop raising rates, thereby curbing the interest paid on floating-rate loans.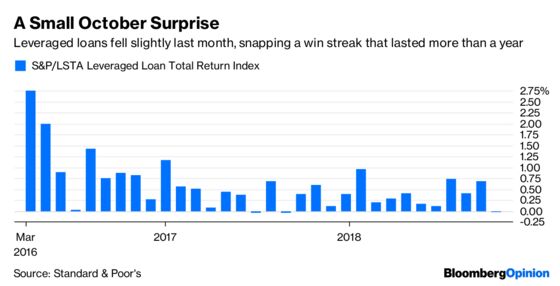 Clearly, that's a lot for even the most resilient asset class to handle. But to abandon ship now seems premature. While it still appears likely that the boom in leveraged loans will end up burning some investors, few signs point to the end times around the corner.
If anything, the market could become healthier if the Democrats win the House in Tuesday's midterm elections, Bloomberg News's Kelsey Butler reported this week. The theory is that leveraged-lending guidance, which the Trump administration stressed should be considered advice rather than a rule, could make a comeback. Even just a tilt toward stricter policy could head off some riskier deals, which would crimp issuance and strengthen the overall quality of new offerings.
Politics aside, most of the trends that have made leveraged loans a top performer in 2018 remain firmly in place. Bond traders still expect the Fed to raise interest rates again in December, and they're back to pricing in almost two full quarter-point hikes in 2019. U.S. stocks have stabilized, with the S&P 500 Index last week gaining the most since March. High-yield bonds, which I warned wouldn't save investors from a severe equities meltdown, have bounced back as well.
That's not to say that credit markets are flawless. For one, crude oil, which is at its lowest price since April, is bound to bite eventually, and as Bloomberg News's Allison McNeely noted last week, distressed energy companies like Weatherford International Plc and Sanchez Energy Corp. helped push the yield on an index of the riskiest junk bonds above 10 percent for the first time since early 2017. James Spicer, a high-yield analyst at TD Securities, said that oil at $50 could pose a big problem for energy companies that struggled to survive the price collapse that began in mid-2014. 
Still, it's hard to draw a straight line connecting stress in high-yield energy bonds to the demise of leveraged loans. Sure, there's some overlap: The industry made up about 8.9 percent of total U.S. loan issuance this year, according to data compiled by Bloomberg. The biggest deal came from McDermott International Inc., which is one of the oil and gas service companies that is particularly at risk from a sustained slide in oil prices. But the whole point of loans is that they're supposed to be a safer alternative to high-yield bonds because they tend to be backed by collateral, and, in McDermott's case, are more senior to the unsecured debt.
Leveraged loans will likely face a day of reckoning. The market has grown so fast, and covenants have become so loose, that it's more a matter of when, not if, it happens. But that "when" is not now, after a minuscule loss. If investors need further proof that the market is doing just fine: Elon Musk's rocket company SpaceX is set to launch a $750 million leveraged loan this week, up from the initial size of $500 million, Bloomberg News reported, citing people familiar with the matter. Until further notice, leveraged loans will remain the star of the fixed-income universe.
This column does not necessarily reflect the opinion of the editorial board or Bloomberg LP and its owners.
Brian Chappatta is a Bloomberg Opinion columnist covering debt markets. He previously covered bonds for Bloomberg News. He is also a CFA charterholder.