Only a Bad Brexit Can Stop the Bank of England
(Bloomberg Opinion) -- A nicely restrained set of U.K. consumer inflation data for September isn't going to derail the Bank of England's steady path to raising interest rates. At this point, only an ugly Brexit would stop another rate hike in the first half of 2019.
CPI fell to an annual pace of 2.4 percent from 2.7 percent in August largely because of lower food and transport prices. Input producer prices did rise to 10.3 percent annually, but that's being driven by higher oil prices – which is out of BOE governor Mark Carney's control. The core CPI measure fell to 1.9 percent, showing that domestic price pressures are relatively tame.
Nonetheless, the Bank's monetary policy committee looks over a three-year horizon when judging how to position interest rates to achieve its inflation mandate. As such, Tuesday's unemployment and wage data will figure much more prominently in its analysis. Average hourly earnings (excluding bonuses) on a three-month rolling average – the bank's preferred measure on wage inflation – rose by 3.1 percent year-on-year in August, the highest since 2009.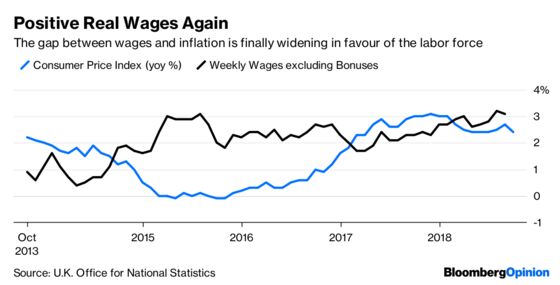 Andy Haldane, the BOE's chief economist, said last week that there was "compelling evidence of a new dawn breaking for pay growth." With unemployment at just 4 percent, the lowest in a generation, the bank is rightly more focused on the tightness in the labor market feeding through to wage inflation.
Of course, wage hikes are a relief for consumers. But the Bank won't allow too much happiness before taking the low interest rate punch-bowl away.
This column does not necessarily reflect the opinion of the editorial board or Bloomberg LP and its owners.
Marcus Ashworth is a Bloomberg Opinion columnist covering European markets. He spent three decades in the banking industry, most recently as chief markets strategist at Haitong Securities in London.