Online Lenders' Shares Hurt by Expected Revenue-Growth Slowdown
(Bloomberg) -- Online lenders are trading rapid growth for the bottom line -- and investors aren't pleased.
The companies, which reported record revenue for 2018, are pointing to rising interest rates as a reason to tread cautiously this year. Higher borrowing costs mean fewer people have an incentive to refinance their debt, leading to lower loan volume for the firms.
"In 2019, we will drive responsible revenue growth with a significant management focus on delivering more revenue to the bottom line," LendingClub Corp. Chief Executive Officer Scott Sanborn said on the firm's conference call this week.
Shares of LendingClub, the largest online lender, plunged after the company projected slower revenue growth amid a tightening credit market, and analysts cut their price targets and estimates for adjusted earnings at the San Francisco-based company. LendingClub projected revenue growth of 10 percent to 14 percent this year, down from 21 percent in 2018.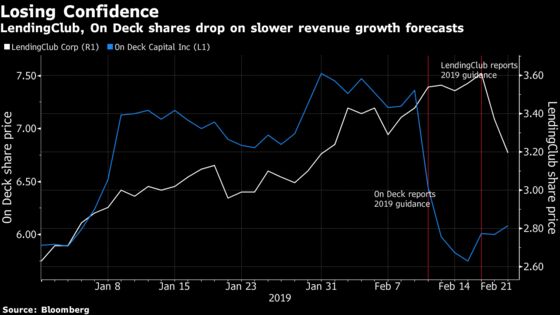 LendingClub fell for a second day Thursday, dropping 7.3 percent to $3.13 at 3:14 p.m. in New York. The stock is down 13 percent in the two days since it announced fourth-quarter results, and has declined by more than half since May 2016, when an internal probe forced former CEO Renaud Laplanche to resign. Competitor On Deck Capital Inc. also fell after the lender last week gave guidance for slowing growth on the low end of its 2019 revenue range and projected a decline in adjusted net income.
For LendingClub, "clearly the market was not thrilled about the company's 2019 guidance, particularly on the revenue side, which is why you have the retreat in the stock price," BTIG LLC analyst Mark Palmer said in a phone interview. Still, "this is not a time to be chasing loan origination for the sake of pushing up volume figures. That's not just applicable with LendingClub -- that's across the board."
Online lending has been gaining market share rapidly. Fintech loans now account for 38 percent of all personal-loan balances, up from 5 percent five years ago, according to credit bureau TransUnion LLC. Fintech startups tend to target people who may not otherwise get loans from traditional banks, which also exposes them to greater risk when interest rates rise, said Jason Laky, a TransUnion senior vice president.
LendingClub said that it expects an adjusted net loss of $9 million to $29 million this year, smaller than its $32.4 million loss in 2018. The company is "targeting adjusted net income profitability over the second half of this year," Sanborn said on the call. The company has been prioritizing cost-cutting initiatives even if that means slowing its loan growth, Maxim Group LLC analyst Michael Diana said in a phone interview.
On Deck, meanwhile, forecast revenue growth of as little as 12 percent for 2019, less than the 14 percent increase last year. The company is projecting adjusted net income of $30 million to $40 million this year, compared with $45.4 million in 2018.
"It appears to us that On Deck is hitting the pause button for 2019," after the company ramped up last year, said Diana, who cut his recommendation for On Deck shares to hold from buy.
Like LendingClub, Elevate Credit Inc. forecast slowing revenue growth this year after a 17 percent increase last year. The online lender said it expects revenue growth to be "relatively flat" in the first half of 2019 followed by an annualized expansion of 5 percent to 10 percent in the latter half of the year.
Elevate will have "lower top-line growth than we've historically generated," CEO Ken Rees said on the company's earnings conference call last week. The company is focusing on improving margins and other strategies for long-term growth, he said. "We're taking this year to open up the hood a little bit, make a lot of the improvements we wanted to make so that we can get back into a stronger top-line growth mode in 2020 and beyond."