One Quant Sees Lehman Omens in Sell-Off That Many Have Dismissed
(Bloomberg) -- A quant at Nomura Securities Co. is emerging as the biggest doomsayer of the recent market malaise.
"What we see is that the trend in U.S. stock market sentiment is starting to resemble the pattern observed in the run-up to the Lehman crisis," said Nomura strategist Masanari Takada, citing a proprietary sentiment index reflecting market fear and greed.
While it's not the firm's base-case scenario, in isolation Nomura's gauge is signaling that the S&P 500 could drop by about 20 percent on average and by about 40 percent in the worst-case scenario, mirroring the plunge that the benchmark took in the six months after Lehman Brothers filed for bankruptcy in September 2008.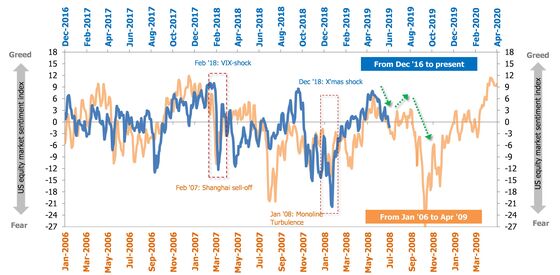 Takada says market patterns are now reminiscent of June 2008, when there was investor concern about global growth and a stocks correction. The Nomura strategist notes that a relief rally took place in July-August 2008 before the big crash, and says equities are currently headed toward a similar scenario in June and July.
"We are probably at the point after the big second wave," Takada said comparing the sell-off of December 2018 with that of January-March 2008, "and before the final big wave. That's why any positive surprises are necessary as soon as possible for the market sentiment to deviate from such an ominous pattern."
Not everyone is as pessimistic. After global equities tumbled in May, investors including Manulife Investment Management used the sell-off to buy stocks at more attractive valuations and are expecting more upside. While many including BlackRock Inc. have flocked to more defensive quality shares this year, the world's biggest asset manager maintains a bullish view on U.S. stocks.
Despite the escalating U.S.-China trade spat, American economic growth remains strong, while many investors stayed on the sidelines during the rally that preceded the May retreat, making a powerful market collapse such as the 2008 one unlikely at this stage.
Nomura's indicators warn that a "bear-squeeze" rally in U.S. from mid-June through early August could give way to a "massive" drop through early September, although Takada reiterates that it's not the firm's base-case scenario. The firm's U.S. sentiment index is calculated using such indicators as the stock price breadth, strength, momentum, demand for junk bonds, excess volatility and put-to-call ratio.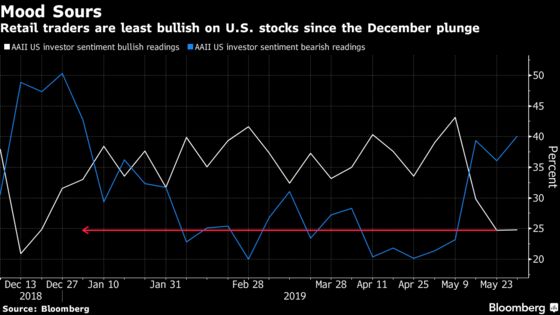 While Takada may be a lone voice in comparing the current pattern with that in the run-up to Lehman's unraveling, he's not the only one pointing out that bearish sentiment is intensifying. Deutsche Bank AG strategists noted on May 31 that rising put-call volume ratios as well as retail sentiment deterioration "approaching extremes" signal downside risks for U.S. stocks. For six weeks in a row, money managers have reduced their stock holdings, the longest streak of selling since June 2011, when the market was mired in the sovereign debt crisis.
Alberto Tocchio, chief investment officer of Heron Asset Management, who in April correctly forecast the upcoming correction in stocks, says the current market situation is far from that of 2007. He has been buying stocks this week and believes that dovish global central banks and stable economic data are deterring bearish sentiment.
"I am still a great believer that in an asset class allocation, equities are the most rewarding of all, but they need to be traded as we will experience high volatility from now to year's end," said Tocchio. "We are not yet there for a full buy signal but it is probably too late to start thinking about selling now."
All eyes are on the Federal Reserve's next move as Chairman Jerome Powell on Tuesday signaled an openness to cutting interest rates if necessary. But if monetary officials decide to hold off on acting now, that may lead to a powerful leg down in markets, said Takada.
"The Fed could decide not to act now, in which case investors with longer investment horizons might be pressed into reducing their equity market exposure," said the Nomura quant. "If that were to happen, a bear market much like that of December 2018 could take shape."