Olam Splits Food and Commodities Units to Tap New Trends
(Bloomberg) -- Olam International Ltd., one of Asia's biggest agricultural firms, is splitting its food business from the rest of its commodities trading in a move to profit from rapidly shifting consumer tastes.
The reorganization reflects the growing recognition among the world's biggest agriculture companies of the value of tapping into demand for specialty products from consumers who are becoming increasingly picky about the ingredients and origins of what they eat and the shift in emerging markets toward more protein-based diets.
While trends including the plant-protein craze have allowed niche food companies like Beyond Meat Inc. to thrive, traditional bulk commodities trading has struggled to make money in recent years as bumper crops have curbed volatility. Many of the world's biggest commodity houses have been forced to restructure.
Chief Executive Officer Sunny Verghese said Olam is making the split after recognizing two distinct themes as part of a strategic review announced a year ago -- firstly a "growing disposition" for more healthy, nutritious and sustainable food and secondly a shift in demand in Asia and Africa to more fat and protein-based diets from carbohydrate and cereal-based products.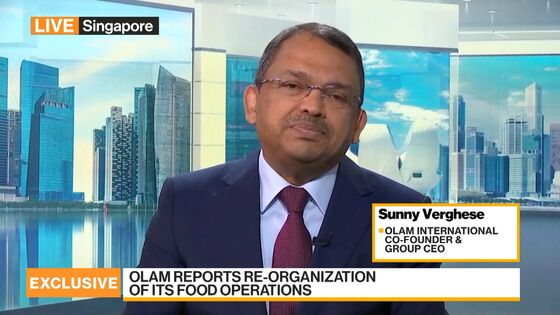 "There are a group of investors who like the ingredients story, another group of investors that like the emerging markets story," Verghese said in an interview in Singapore on Monday. The reorganization "allows the different kinds of investors to choose which groups they'd like to be a part of."
The company may later seek to raise capital for new growth by "carving out" parts of the reorganized business or an IPO of the two segments, it said.
When it announced its strategic review, Olam said it was exiting a handful of bulk commodities including sugar and rubber to focus on core businesses including nuts and coffee. It also pledged to invest $3.5 billion in the areas where it saw high potential for growth.
The revamp marked the trader's first major shift in strategy since 2013, when short-seller Muddy Waters LLC questioned its business model, eventually leading to a takeover by Singapore's state-owned investment fund, Temasek Holdings Pte, which now holds about 54% of the company. Japanese giant Mitsubishi Corp. is the second-biggest stakeholder with 17%.
Some recent news on an Asia trading giant
Olam Appoints Bankers to Help It 'Maximize' Long-Term Value
Olam Sees 'Very Bright Future' for Cocoa on Higher Demand
Olam Reports Lower 3Q Profit on Higher Net Finance Costs
Olam Says in Discussions to Divest, Restructure Various Assets
In an interview with Bloomberg TV, Verghese said the company's board is "very confident" the plan will have the full backing of key shareholders as it unlocks significant long-term value. He also said he was confident they'll remain invested in the group as a whole.
"From the perspective of Olam shareholders, I think the re-organization is good as the split should hopefully make it easier for them to sell or monetize each business separately," said Ezien Hoo, credit research analyst at Oversea-Chinese Banking Corp.
Since announcing its review, the company has so far invested about $900 million of its $3.5 billion target. It acquired Indonesia's top cocoa bean processor as well as Californian almond company Hughson Nut Inc., while selling its onion and garlic processing facility real estate assets in the U.S. state. In November, it completed the purchase of Nigeria's Dangote Flour Mills Plc.
The company has meanwhile divested about $700 million of the $1.6 billion it said it would target in its strategic plan, which also includes its wood products and fertilizer businesses.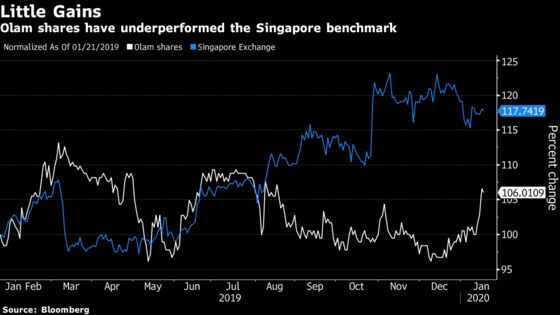 Founded in 1989 and listed on the Singapore Exchange in 2005, Olam has a market value of S$6.2 billion ($4.6 billion). It has said it ranks as the world's largest focused supplier of cocoa beans and cocoa products, as well as the second-biggest coffee, rice and cotton supplier. Shares gained as much as 2.1% following the announcement on Monday, before trading 0.5% lower at 2:10 p.m. in Singapore.
A. Shekhar will be the chief executive officer of the food-ingredients unit and step down as Olam's chief operating officer. Verghese will retain his position while also heading the global agri-business division.
It may take 18 to 36 months to complete the "carve-outs" of both new entities, Verghese said, referring to the time it may take from separating the units out in terms of reporting their performance to raising growth capital either through potential private placements or via a public offering.
Here are more details from Bloomberg's interview with Verghese:
Olam isn't looking for an opportunity to cash out or sell its businesses. "We are the right long-term best parents for these businesses and our interest would be to hold these businesses into perpetuity," he said.
Olam is examining various locations for possible IPOs of the units. The company is looking for exchanges with deep liquidity, high governance standards, and where there are similar firms listed.
Olam is targeting acquisitions that will bring it closer to being a more ingredient-focused company rather than a raw material firm; favors assets that are in the processing business.
Verghese doesn't expect a global recession, but says demand for commodities will be "muted" and won't be growing this year.
Olam expects demand for agricultural commodities to grow much faster in emerging markets than in developed countries.