Your Coffee Could Be About to Get More Expensive
(Bloomberg) -- Coffee drinkers be warned. The world's second-largest supplier says futures could potentially rally as the global glut that's depressed prices of robusta and arabica beans begins to contract.
The surplus will fall to about 5 million bags this year from 9 million bags a year earlier as bad weather hurts producers in major growing regions such as South and Central America, said Sunny Verghese, chief executive officer of agriculture trader Olam International Ltd.
Lower production will support prices, Verghese said, after the Singapore-based trader reported a steep decline in fourth-quarter earnings, attributed in part to a weaker performance in its coffee business in 2018, which it said was likely to continue in the first half of this year.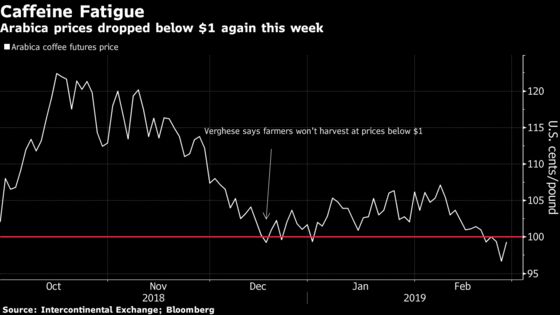 "If we have any further weather-related surprises, this market could potentially rally," Verghese said. An unprecedented level of short positions across the market -- equivalent to about 20 million bags -- was weighing on prices, he said.
Olam's bullish outlook on the popular beverage echoes forecasts by Brazilian trading company Comexim, which sees futures rebounding as high as $1.20 per pound by mid-year. Arabica coffee prices fell this week to the lowest since September, holding below $1 a pound, a level that Verghese says is lower than production costs in many countries.
Still, last year's showing in its coffee business won't deter Olam from expanding in the industry, or in its cocoa business, which was among its best performers. The company last month identified the two commodities along with cotton, spices and nuts as its key focus for the next five years as it exits rubber and sugar.
Co. expects Central American and Andean crop to fall by about 1.5 million bags

Colombia crop to decline by about 1 million bags
Brazil crop to fall by about 1 million bags because of "difficult" weather in December and January

Coffee prices will also be steered by Brazilian real
Olam plans to expand its soluble coffee, cocoa business
In cocoa, Olam expects a "slight" surplus of about 100,000 tons in 2018-2019

There's strong demand for cocoa powder in Southeast Asia
Cocoa prices seen trading between $2,100 and $2,700 per ton in London

The probability of El Nino has increased, with a possibility of a moderate event. That could adversely impact palm oil output and lead to an increase in prices
Combined palm output in Indonesia and Malaysia seen rising by 3 million tons in 2019
Soy prices may rally on a U.S.-China deal, which will expand the spread with palm