Oil Tumbles to One-Month Low as U.S., Russia Stanch Supply Risk
(Bloomberg) -- Oil tumbled to its lowest in a month despite the promise of tighter sanctions on Iran, as investors saw the U.S., Russia and Saudi Arabia all potentially filling the gap.
Futures in New York fell 2.8 percent as the global supply balance looked less severe. While U.S. exemptions for several Iranian crude buyers were due to expire Thursday, data also showed American crude inventories hitting the highest level in two years while Russia missed a target for production cuts in April. Oil refiners in Asia were said to be asking the Saudis to replace Iranian barrels.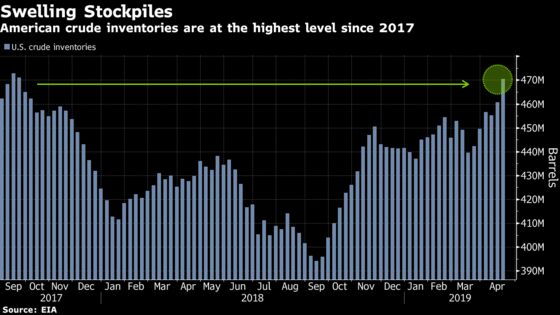 Oil reached a five-month high last week as the Trump administration announced the end of waivers that freed China and other major economies to buy from Iran. Prices have since slipped amid signs that, despite the tighter sanctions and threats brewing in other countries, global markets remain sufficiently supplied.
The U.S. has said the Saudis will pump more, but the kingdom's oil minster, Khalid Al-Falih, has been less clear-cut. He has pledged to keep the market balanced, but also signaled that OPEC and its allies including Russia could extend output curbs until the end of this year.
"I tend to think the consequences are more economic hardship for the people of Iran than particularly moving the supply-demand dynamic for oil," said Frances Hudson, a global thematic strategist at Aberdeen Standard Investments in Edinburgh. "I don't think we're particularly bullish on prices from here."
In Belarus, the arrival of clean Russian crude also showed last week's contamination issues are heading toward a resolution. In Venezuela, home to the world's largest reserves, the immediate risk to output has receded, as an attempted uprising against President Nicolas Maduro appeared to stall.
WTI crude for June delivery sank $1.79 to $61.81 a barrel as trading closed on the New York Mercantile Exchange, its lowest level since April 1.
Brent for July settlement was down 2 percent to $70.75 a barrel on the London-based ICE Futures Europe Exchange.
American crude stockpiles jumped by almost 10 million barrels to about 471 million last week, the highest since 2017, the Energy Information Administration said on Wednesday. Analysts surveyed by Bloomberg had forecast an increase of just 1.75 million barrels. Production rose to 12.3 million barrels a day.
"When the U.S. crude-oil warehouses bulge to their highest levels since September 2017, while production continues to set new high-water marks, warning signals should be flashing red," said Stephen Innes, head of trading at SPI Asset Management.
Other oil-market news:
Gasoline futures fell 2.2 percent to $2.0183 a gallon. 
Royal Dutch Shell Plc's first-quarter earnings beat even the highest analyst estimate as its natural gas business led a strong companywide performance. 
State-run oil producer Saudi Aramco has received requests from Asian buyers for additional supplies for loading in June and July.