Oil Trading House Vitol Sees OPEC+ Extending Production Cuts
(Bloomberg) -- Vitol Group, the world's largest independent oil trader, expects OPEC and its allies to extend their production cuts into the second half because of the uncertain market outlook.
"We expect them to roll" over current output targets, Vitol Chairman Ian Taylor said in an interview with Bloomberg Television on Monday. "It's the easiest thing to do."
Taylor described a market caught between two opposing forces. On one side, financial investors are selling oil contracts because they're worried about the impact of the deepening trade war between the U.S. and China. On the other, the supply and demand fundamentals of the market look still strong, supported by output cuts from the Organization of Petroleum Exporting Countries and the contaminated-oil crisis in Russia.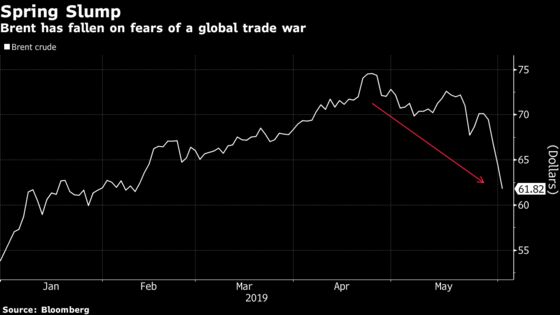 Brent crude peaked above $75 a barrel in late April after the U.S. tightened its oil sanctions on Iran. Since then, it has fallen to nearly $60 amid worries about the health of the global economy.
"Obviously, we have come down a long way," said Taylor, who has traded oil for nearly 40 years. "Financial flows are obviously negative -- trade wars and all the rest of it, understandably. Yet, the front-end, if you look at the Brent spreads, is pretty good still. Demand is relatively solid."
While the headline price of Brent has fallen about 15 percent over the last five weeks as financial investors sold the commodity, the price difference between the spot market for crude cargoes and futures contracts -- so-called time-spreads -- are still signaling a tight underlying market.
Taylor warned of two factors to watch in the second half: how the crisis of contaminated Russian oil is resolved; and growth in exports from the U.S. as new pipelines remove bottlenecks from the Permian basin of West Texas and south-east New Mexico.
The Russian crisis was probably "worse" than the market expected, but is starting to ease, Taylor said. He predicted a big surge in U.S. crude production and exports, with negative consequences for prices.
Taylor revealed for the first time that Vitol has stopped trading on Venezuelan crude and refined products at the behest of the U.S.
"Theoretically we are able to, but the U.S. is not keen for anyone trading Venezuelan," he said. "I wouldn't say pressure, but we aren't trading."