Oil and Gasoline Dip With Refineries Spared From Worst of Laura
(Bloomberg) -- Oil declined after Laura barreled into Louisiana, largely sparing the Texas Gulf Coast from widespread disruption to key energy infrastructure.
Laura made landfall early Thursday near Cameron, Louisiana, as a Category 4 hurricane and has now weakened to a tropical storm. While the storm knocked out power to hundreds of thousands of people and impacted plants that produce chemicals and liquefied natural gas, southeast Texas ports and refineries -- including the largest U.S. refinery -- likely avoided the worst of it.
Crude futures in New York fell less than 1% on Thursday, while gasoline futures dropped more than 5%. A stronger dollar also reduced the appeal for commodities priced in the greenback.
"The damage is not as bad as anticipated, which is creating more sell pressure along the energy complex," said Phil Flynn, senior market analyst at Price Futures Group. "The lower price of gasoline means worse refining margins potentially, meaning that there's not going to be a lot of incentive to use a lot of crude quickly."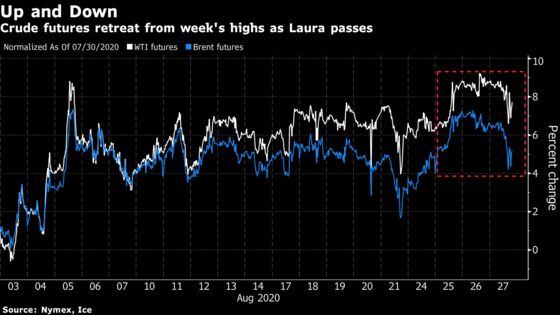 As the storm passes, traders are assessing the potential impact on both fuel production and consumption. Exxon Mobil Corp.'s Beaumont refinery in Texas will begin restarting Friday if an assessment shows no damage from Hurricane Laura, while its Baytown refinery on the Houston Ship Channel has already begun the restart process.
Meanwhile, Magellan Midstream Partners LP's East Houston terminal restored full operations at its refined products truck loading rack and the U.S. Coast Guard reopened the Port of Houston on Thursday.
More than 80% of oil output in the Gulf of Mexico and almost 3 million barrels a day of refining capacity had been shut ahead of the storm, causing a spike in gasoline futures prices earlier this week. Since then, prices have retreated. Aside from the storm impact, a persistent inventory overhang as the coronavirus depresses demand continues to cloud the outlook for a sustained rebound in prices.
"There's still these competing inputs on the demand outlook," said John Kilduff, a partner at Again Capital LLC. Due to the hurricane, there is a "big region where there's going to be a lack of demand as people shelter in place and business patterns get disrupted."
Prices
West Texas Intermediate for October delivery declined 35 cents to settle at $43.04 a barrel.
Brent for the same month dropped 55 cents to end the session at $45.09 a barrel.
Nymex gasoline futures fell 5.6% to settle at $1.2845 a gallon.
The Bloomberg Dollar Spot Index strengthened as much as 0.3%.
In physical markets, Gulf Coast crudes are showing mixed signals after Laura's landfall. Mars Blend, a high-sulfur crude, dropped on Thursday to its narrowest premium against Nymex WTI futures since July, while Heavy and Light Louisiana Sweet crudes strengthened.
Meanwhile, bookings for tankers to ship gasoline from Europe to the U.S. surged this week. So far, 13 tankers were booked to load gasoline in Europe with the U.S. listed as a destination, according to shipping fixtures compiled by Bloomberg.
Other market drivers
Russia's international reserves are increasing despite current difficulties, creating a "safety cushion," President Vladimir Putin says in interview on Rossiya 24.
The UAE's output plan for October will be a "massive" 900,000 barrels a day above its OPEC+ quota, consultant Energy Aspects said in a report, citing people it didn't identify.
Saudi Aramco appointed a new chief executive officer to run its $500 million venture capital and investments arm after the previous head departed, according to people with knowledge of the situation.