Oil Steadies Below $60 in Midst of U.S.-Iran Conflict
(Bloomberg) -- Oil closed at the lowest level since mid-December amid receding concerns that the U.S.-Iran conflict would significantly escalate.
Futures in New York fell for a third straight session. President Donald Trump downplayed the impact of missile attacks on American bases in Iraq, allaying concerns that Washington and Tehran are headed for military confrontation. There's been virtually no impact on the supply of oil to the market. At the same time, futures found technical support at the 50-day moving average after breaching the level briefly during the session. Prices are on track to post the biggest weekly decline since October.
"The market is now actively trying to stabilize after the U.S.-Iran crisis," said Gene McGillian, manager for market research at Tradition Energy in Stamford, Connecticut. "From here, the market will be looking to the fundamentals that were the drivers before a week ago."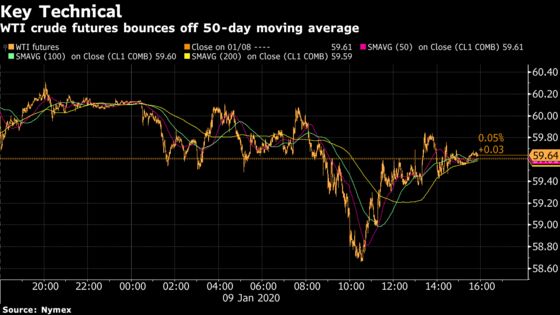 Oil surged last week when the U.S. assassinated Iranian military commander Qassem Soleimani in an airstrike in Baghdad, then climbed above $65 a barrel on Wednesday after Iran retaliated. The gains quickly fizzled as the prospect of war receded.
Still, the Pentagon said it's too early to tell what Iran will do next. Sky Arabia reported a new rocket attack targeting the Green Zone in Baghdad on Thursday, reflecting heightened political tensions across the oil-rich region. A rocket also landed in the Fadhlan area, near the Balad airbase, which houses U.S. troops in northern Baghdad, al-Sumaria News reported, citing a security official.
"There will be incremental disturbances after the first one. We are not one and done," said Leo Mariani, an analyst at Keybanc Capital Markets. There may be more conflict ahead and these potentially will affect shipping and oil production facilities, he said.
More on U.S.-Iran tensions:
Iran Threat Response Seen as Weakened by Trump Migrant Focus
With U.S. shale-oil production plentiful and spare capacity across OPEC nations high, it would take a disruption to physical supplies to keep prices elevated, according to Goldman Sachs Group Inc.
West Texas Intermediate for February delivery dropped 5 cents to settle at $59.56 a barrel on the New York Mercantile Exchange.
Brent futures for March settlement declined 7 cents to end the session at $65.37 a barrel on the ICE Futures Europe Exchange.
U.S. Vice President Mike Pence said intelligence suggests Tehran is urging militias to refrain from reprisals, though America remains "ready for everything." Iranian President Hassan Rouhani tweeted that the government's final answer to the assassination will be to "kick all U.S. forces out of the region."
Other oil-market news:
Gasoline futures rose 0.2% to settle at $1.6527 a gallon.
After gaining 40% last year, according to a person familiar with the results, Westbeck Capital Management is betting Canadian firms are better positioned because they don't need to spend as much as their U.S. counterparts, giving them a higher level of free cash flow.
Chinese Vice Premier Liu He will lead a delegation to Washington to sign the first phase of the trade deal with the U.S. from Jan. 13 to Jan. 15, according to the Ministry of Commerce.
Just shy of $100 a barrel -- that's the asking price for a type of crude that's become prized thanks to the

scramble

for cleaner-burning fuels.