Oil Posts Weekly Loss With Restrictions Growing to Curb Virus
(Bloomberg) -- Oil declined for the first week since October as a new coronavirus mutation spreads through parts of the world and poses risks to energy demand in the wake of stricter lockdowns.
Futures in New York slid 1.8% this week, yet closed up on Thursday with equities gaining after the U.K. clinched a historic trade deal with the European Union.
Tougher restrictions were extended to much of England to contain the new strain of Covid-19, and China said it would pause flights to and from the U.K. A cluster of infections in Sydney is growing and in the U.S., New York City hospitalizations are at the highest since May.
"Any setback in combating the pandemic is met with selling, as we saw this week," said John Kilduff, a partner at Again Capital LLC. "Demand in the early part of January is looking shaky, especially if more lockdowns come our way, which is increasingly likely if a post-Christmas surge in virus cases materializes."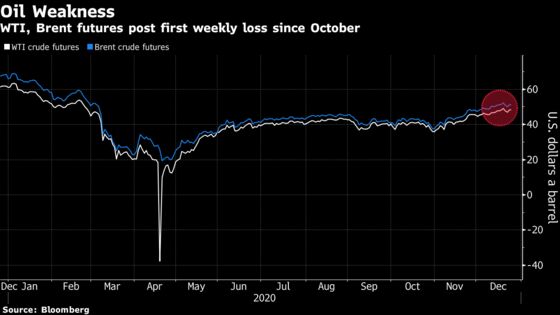 After a run of seven weekly gains driven by euphoria over a series of vaccine breakthroughs, oil's weakness points to the concerns over how long it will take for vaccines to roll out and the impact on energy consumption. At the same time, the OPEC+ alliance plans to add supply back to the market next year, another risk factor.
"Our forecast is there are more downside risks going forward than upside tailwinds for the energy markets," said Tariq Zahir, managing member of the global macro program at Tyche Capital Advisors LLC. "We have already seen downward revisions for oil demand going into next year and with OPEC wanting to start to add production," demand may weaken further.
U.S. lawmakers are still in discussions over a stimulus bill. House Republicans blocked Democrats' attempt to meet President Donald Trump's demand to pay most Americans $2,000 to help weather the pandemic.
Prices
West Texas Intermediate for February delivery rose 11 cents to settle at $48.23 a barrel on the New York Mercantile Exchange
Brent for February settlement edged up 9 cents to end the session at $51.29 a barrel on the ICE Futures Europe exchange
Neither WTI nor Brent will trade on Friday due to the Christmas holiday
Oil's futures curve has also weakened. Brent's prompt timespread is in contango, a bearish market structure where near-term prices are more cheaper than later-dated ones. The spread was in backwardation earlier in the month.
Meanwhile, U.S. President Donald Trump raised geopolitical tensions in the Middle East, accusing Iran of being responsible for a rocket attack near the U.S. embassy in Baghdad on Sunday. "Some friendly health advice to Iran: If one American is killed, I will hold Iran responsible. Think it over," he said in a tweet.
The Islamic Republic's Foreign Ministry said the claims were baseless. The country's oil minister said last week that Iran was planning to double its production in 2021, which will clash with OPEC+ efforts to gradually increase supply without flooding the market.