Oil Erases Gains With Industry Report Showing Rising U.S. Supply
(Bloomberg) -- Oil erased its increase after an industry report showed U.S. stockpiles grew last week, heightening concerns over lackluster consumption.
Futures retreated from the settlement price after the American Petroleum Institute was said to report a surprise 2.56 million-barrel build in domestic oil supplies, ahead of U.S. government figures Friday. Crude inventories were expected to have declined last week, according to a Bloomberg survey. The API report also showed builds in refined products.
Worldwide, fuel use is expected to take another hit as new virus outbreaks in China add to a wave of infections in Europe and other parts of the world. JPMorgan Chase & Co. cut its Chinese demand forecasts for January to March.
The U.S. "is still the biggest market in the world and it hasn't recovered all the demand loss," said Peter McNally, global head for industrials, materials and energy at Third Bridge. Additional lockdown measures in China are also weighing on the global outlook as "Chinese demand has been one of the big drivers of improved oil fundamentals."
Despite the day-to-day fluctuations in headline crude prices, U.S. crude's closest contract was the most expensive versus those for six months out in about a year. Key Brent spreads are also in what is known as backwardation, indicating expectations for tight supply.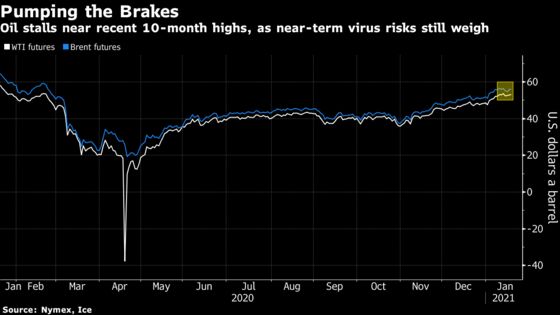 Crude has held near $53 a barrel in New York with the nation working to roll out vaccinations as it struggles to contain the pandemic. Still, prices remain supported by the OPEC+ alliance's continued production curbs.
"Saudi determination to support markets holds sway for now," said Paul Sheldon, chief geopolitical risk analyst at S&P Global Platts. "OPEC+ production cuts are markets' most supportive factor at current prices and now appear to be running ahead of coronavirus-related demand uncertainty."
Prices
West Texas Intermediate for February delivery, which expires Wednesday, gained 26 cents to settle at $53.24 a barrel

The March contract was trading at $52.97 a barrel as of 4:43 p.m. in New York after settling at $53.31 a barrel

Brent for March settlement added 18 cents to end the session at $56.08 a barrel
The Bloomberg Dollar Spot Index weakened for a third session, boosting the appeal of commodities priced in the currency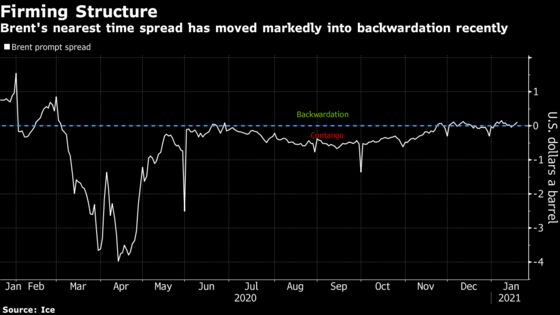 Chinese imports of U.S. and Russian crude last month were at similar levels to November, while purchases from Saudi Arabia and Iraq fell, according to customs data released Wednesday. Imports from Iran almost doubled.
Other oil-market news
Biden's move to block the $9 billion Keystone XL project is the clearest sign yet that constructing a major new pipeline in the U.S. has become an impossible task.
Trafigura Group valued Russia's flagship Arctic oil project at 70 billion euros ($85 billion) when it bought a 10% stake last month, it said in a statement that revealed the scale of its investment for the first time.
Brookfield Asset Management Inc. and KKR & Co. are among top infrastructure investors weighing bids for a stake in Saudi Aramco's oil pipelines, people familiar with the matter said.
Highly sulfurous diesel -- often referred to as gasoil -- now costs almost the same as the cleaner type that's used to power the continent's cars and trucks. Why? Because Covid-19 is hitting some parts of the economy harder than others.