Oil Surges as OPEC+ Pledges to Clear Pandemic-Driven Surplus
(Bloomberg) -- Oil climbed to the highest in more than a year in New York as OPEC and its allies pledged to continue whittling down global inventories.
Futures in New York surged 1.7% to near $56 a barrel on Wednesday. A committee of OPEC+ ministers said the group will keep pushing to quickly clear the oil surplus left by the pandemic-induced demand slump. The alliance's effort appears to be working despite a still tenuous recovery in demand: Chinese stockpiles are at the lowest in almost a year and a U.S. government report on Wednesday showed crude stockpiles fell nearly 1 million barrels.
There's a sense that "the risk is much more on the upside than the downside at this point," said Michael Lynch, president of Strategic Energy & Economic Research. "We certainly still have a lot of inventories sloshing around the system, but people feel like that's going to decline from here on out until we get back to a balanced market."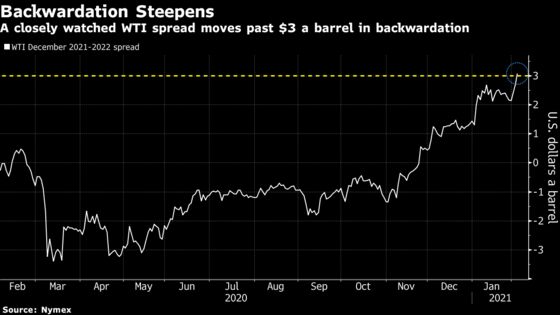 Alongside OPEC+'s efforts to limit crude supply, driven by Saudi Arabia's commitment to extra cutbacks, the oil market's structure has firmed significantly. The premium of West Texas Intermediate's nearest December contract to December 2022 has widened to more than $3 a barrel. Nearby timespreads are also in a bullish backwardation structure, indicative of tighter supplies.
"The macro setup is pretty bullish, even if you're not seeing demand recover particularly quickly," said Matt Sallee, portfolio manager at Tortoise, a firm that manages roughly $8 billion in energy-related assets. "OPEC is holding the line on production, the vaccine rollout is progressing, Covid cases are rolling over and the stimulus package is making some progress."
Prices
West Texas Intermediate for March delivery rose 93 cents to settle at $55.69 a barrel, at the highest since late January 2020
Brent for April settlement advanced $1 to $58.46 a barrel. The contract is at the highest since last February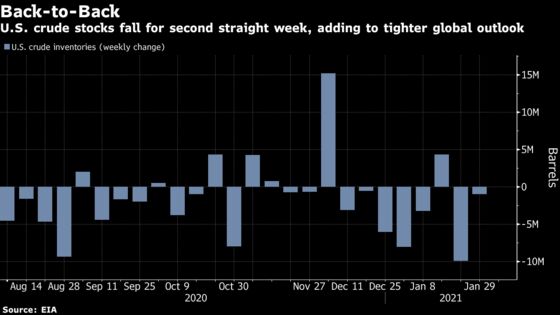 Despite the downtrend in crude inventories, a recovery in fuel demand remains shaky as lockdown measures limit mobility. The combined refining margin for gasoline and diesel, which provides a rough profit gauge for processing a barrel of crude, fell back toward $14 a barrel on Wednesday. The Energy Information Administration report showed gasoline stockpiles at the highest since June. A rolling average of gasoline demand ticked up slightly last week, but still remains at its weakest seasonally in more than two decades.
While demand remains uncertain in the coming months, a statement from the OPEC+ Joint Ministerial Monitoring Committee on Wednesday noted "the gradual rollout of vaccines around the world is a positive factor for the rest of the year boosting the global economy and oil demand."
Other oil-market news
The U.S. has gone to court to seize 2 million barrels of oil that it claims came from Iran, as Joe Biden's administration shows little sign of taking a softer line on Tehran.
Minnesota Court of Appeals ruled against Red Lake Band of Chippewa Indians, White Earth Band of Ojibwe and Friends of the Headwaters in their effort to stop Enbridge Line 3, according to a copy of the court ruling sent by the company.
The GameStop Corp. and AMC Entertainment Holdings Inc. retail frenzy was bigger than the market for West Texas Intermediate oil futures, on a notional dollar basis, RBC Capital Markets said.
In the depths of one of the biggest collapses in earnings for years, oil-tanker owners' largest cost is now jumping higher. As oil prices rally, marine fuel is up about 13% in Europe so far this year, according to Intercontinental Exchange Inc. data.