Crude Rises as Mystery of Missing Saudi Critic Strains Alliance
(Bloomberg) -- Oil advanced amid growing international outrage over the disappearance of a prominent Saudi Arabian critics that put relations between the U.S. and kingdom on a knife edge.
Futures rose 0.6 percent on Monday in New York as the U.S. and Saudi Arabia traded barbs over the fate of journalist Jamal Khashoggi. Prices retreated from a 1.9 percent gain earlier in the session after Trump suggested "rogue killers" may have been responsible for Khashoggi's disappearance, dialing back the dispute between the world's biggest economy and its largest oil exporter.
After the close of regular trading, CNN reported the Saudis were preparing to declare Khashoggi died in a botched interrogation carried out without official sanction.
"The market calmed when President Trump said the Saudi king had nothing to do with the missing journalist," said Phil Flynn, senior market analyst at Price Futures Group.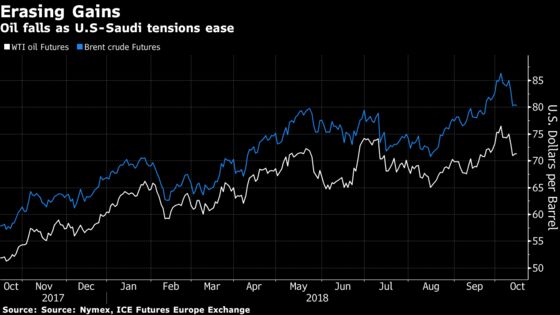 Before a Monday morning phone conversation with Saudi King Salman Bin Abdulaziz, Trump had promised "severe punishment" should the kingdom be proved responsible for the Khashoggi's disappearance in the Turkish capital. In response, the Saudis threatened to use their economic might to retaliate, which would have been a break from their decades-old policy of putting petroleum above politics.
"The market will price in some risk premium," said Giovanni Staunovo, an analyst at UBS Group AG in Zurich. "While Saudi Arabia hasn't used politics in recent years, its crown prince -- like President Trump -- isn't an ordinary politician and it's unclear how he'll react going forward."
Crude has retreated about 6 percent from a four-year high reached earlier this month as a darkening demand outlook, coupled with global stock-market routs, prompted investors to shun risky assets. Still, it's not yet clear whether the Organization of Petroleum Exporting Countries and its partners can offset supply losses from Iran as U.S. efforts to isolate the Islamic Republic take hold.cl
See Also: Demand Jitters Repel Oil Bulls Before Worst Rout in 5 Months
West Texas Intermediate for November gained 44 cents to end the session at $71.78 a barrel on the New York Mercantile Exchange.
Brent for December settlement rose 35 cents to settle at $80.78 on the London-based ICE Futures Europe exchange. The global benchmark crude traded at a $9.17 premium to WTI for the same month.
Other oil-market news:
Gasoline futures were little changed, settling at $1.9443 on Monday.
Occidental Petroleum Corp. dropped the most in almost two years after deciding to hand over its stake in an oil field in Qatar to the government, an announcement that appeared to catch some investors off-guard.
Drillers in one of the biggest U.S. oil plays are blowing past government targets for burning off excess natural gas pumped along with crude.