Oil Rises as U.S. Says No Plan to Tap Emergency Stockpiles
(Bloomberg) -- Oil rose a day after the U.S. Energy Secretary ruled out tapping the Strategic Petroleum Reserve, compounding concerns that sanctions on Iran will tighten markets.
Futures in New York gained 0.8 percent Thursday. Energy Secretary Rick Perry said Wednesday that the government isn't planning to tap emergency stockpiles to prevent prices from surging when American sanctions on Iranian crude are implemented in early November. Earlier, Total SA's chief executive officer said prices may be heading for $100 a barrel, but warned this could hurt demand.
"People are rolling the dice on whether oil will reach $100," said Bob Yawger, director of the futures division at Mizuho Securities USA. "We're getting close to an area where oil is overbought and we'll probably see a bit of a pull-back."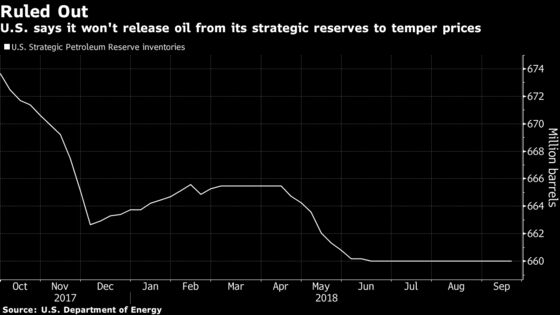 U.S. crude is nearing four-year highs after OPEC signaled it's in no rush to boost production to counter losses from Iran, drawing repeated criticism from President Donald Trump. Top trading houses are predicting the return of $100 oil, last seen in 2014, while Bank of America Corp. and JPMorgan Chase & Co. have increased their price forecasts.
"Right now we're trading more on fear than on fundamentals,"said Ashley Petersen, senior oil market analyst at Stratas Advisors. "Hopefully by the start of next year and the end of this quarter some of that fear will be worked out of the market."
West Texas Intermediate crude for November delivery rose 55 cents to settle at $72.12 a barrel on the New York Mercantile Exchange. Total volume traded Thursday was about 38 percent below the 100-day average.
Brent for November settlement rose 38 cents to close at $81.72 a barrel on the London-based ICE Futures Europe exchange. The global benchmark crude was at a $9.60 premium to WTI.
Releasing oil from the U.S. strategic reserve to prevent a price spike would have "a fairly minor and short-term impact," Perry said, adding that other producers can offset losses from Iran. Earlier this week, Trump accused OPEC of "ripping off" the world after the group stopped short of promising specific extra volumes of crude.
The global oil market faces its tightest quarter in more than a decade in the final three months of this year as diminished Iranian supplies coincide with a resurgence in purchases by China, according to consultants Energy Aspects Ltd.
Meanwhile, government data showed that nationwide stockpiles in the U.S. increased by 1.85 million barrels to about 396 million barrels last week, confounding most analysts in a Bloomberg survey who were expecting a decline. Inventories in the key oil-storage hub of Cushing, Oklahoma, also rose for the first time in three weeks.
Gasoline futures rose 1.2 percent to $2.0824 a gallon.
Brazil's state-run energy explorer Petrobras will pay $853.2 million to settle claims by authorities in its home country and the U.S.
This year's frack-sand boom in West Texas is taking a toll on demand for production from older Midwest mines, forcing some to shut temporarily as prices sink.