Oil Slips Lower as Saudi Dithering on Cuts Sends Prices Swinging
(Bloomberg) -- Oil fell as doubts about OPEC's appetite for production curbs exacerbated signs of swelling American surpluses.
Futures slipped in New York and London, erasing gains of as much as 3 percent, after Saudi Energy Minister Khalid Al-Falih seemed to backtrack on recent calls for 1 million barrels of cuts to daily output by major exporters. Subsequently, the American Petroleum Institute was said to report a surge in U.S. crude, gasoline and diesel inventories. After ending a bumpy session higher, futures fell back in the red in after-hours trading.
"It's premature to say what will happen" in Vienna, Al-Falih said in an interview at a United Nations climate-change conference in Poland. "We need to get together and listen to our colleagues, hear about their views on supply and demand and their projections of their own countries' production."
The note of caution combined with news that the Saudis had slashed the price they charge to Asian customers to dent traders' optimism. The comments came just days after an agreement between Saudi Crown Prince Mohammed bin Salman and Russian President Vladimir Putin appeared to smooth the way for a production accord when OPEC gathers in Vienna later this week.
"It's not a good price signal," said Bob Yawger, director of futures at Mizuho Securities USA in New York. "Either demand is bad or all the talk about cutting production is just lip service."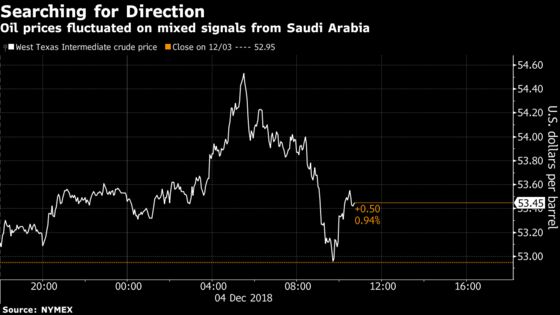 West Texas Intermediate for January delivery slipped 32 cents to $52.63 a barrel at 4:32 p.m. on the New York Mercantile Exchange, after closing regular trading at $53.25, a 30-cent gain from Monday. Futures had reached $54.55 earlier, the highest in more than a week, before Al-Falih's comments.
Brent for February settlement fell 33 cents to $61.36 on London's ICE Futures Europe exchange. Brent produced a so-called "death cross" on Tuesday, a bearish technical signal when its 50-day moving average falls beneath its 200-day average.
The API was said to report U.S. crude stockpiles rose 5.36 million barrels last week. Inventories for gasoline and diesel were also said to have risen in the industry group's tally.
Despite the volatility, analysts at UBS AG said on Tuesday that they expect a "sustained recovery" for crude next year.
"OPEC nations have a strong incentive to support decisive output curbs," the bank said in a note to clients. "The near 30% drop in crude prices since early October has pushed prices below the level most OPEC countries require to balance their fiscal budgets." Producers, meanwhile, still have fresh memories of the collapse in prices in 2014 after the cartel refused to adjust output.
Other OPEC members are still pushing for curbs. United Arab Emirates Energy Minister Suhail Al Mazrouei reiterated that an output reduction is required. Iraq's oil ministry said the nation is seeking balance in the market.
Other oil-market news:
Gasoline futures rose 0.8 percent to close at $1.4434 a gallon in New York.
Schlumberger, the world's biggest oil services provider, said it expects North American revenue to drop because fracking is dropping off more than expected.
Argentina's YPF SA plans to spend $2 billion with Malaysia's Petronas to move the Vaca Muerta shale venture to full-scale development.