Oil Gives Up Gains as U.S. Supplies Counter Venezuelan Turmoil
(Bloomberg) -- Oil erased gains after a surprise jump in U.S. crude inventories allayed some concerns that rising violence in Venezuela is threatening supplies.
Crude futures dipped to a loss late Tuesday after the American Petroleum Institute was said to report a 6.81 million barrel increase in stockpiles last week, well above estimates in a Bloomberg survey. Prices had advanced earlier in the day after Venezuelan opposition forces clashed with police in the streets of Caracas, escalating tensions in the home of the world's biggest crude reserves.
If the stockpile increase is confirmed by government data on Wednesday, "that's certainly going to be a negative for the market," said Andrew Lebow, senior partner at New York consultant Commodity Research Group. "Expectations are nowhere near that type of build."
Global benchmark Brent crude rose 1.1 percent on Tuesday after Saudi Energy Minister Khalid Al-Falih said OPEC and its partners remain focused on reducing oil inventories. That could leave global supplies thin as the U.S. chokes off Iranian exports and unrest flares elsewhere.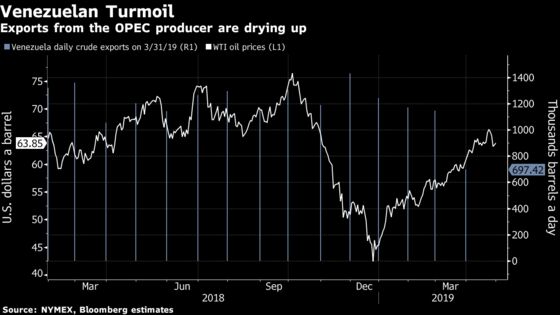 Oil reached a six-month high last week after the Trump administration announced the end of waivers that shielded some buyers of Iranian crude from American sanctions. While the Saudis pledged to fill any gaps, the kingdom also remains committed to a pact with Russia and other producers to keep a lid on output.
West Texas Intermediate crude for June delivery slipped 4 cents to $63.46 a barrel at 4:59 p.m. on the New York Mercantile Exchange, after ending the official trading session up 0.7 percent. U.S. refiners are more reliant on Venezuelan supplies than competitors in other parts of the world, which means civil unrest and political chaos in the nation have an outsize impact on North American prices.
Brent for June settlement, which expires Tuesday, gained 76 cents to $72.80 on the London-based ICE Futures Europe exchange. The more-active July contract added 52 cents to $72.06.
OPEC will try to reduce commercial inventories and focus on "global oil output, trying to correct it via our OPEC+ agreement," Al-Falih told Russian news agency RIA in Riyadh. Most ministers involved in the current cuts agreement favor an extension, perhaps through the end of the year, he said.
The Saudis face a tricky task to balance the market and help revive their economy while fielding U.S. President Donald Trump's public jibes to accelerate output and help lower gasoline prices.
The developments in Venezuela triggered a spate of buying early on Tuesday, but that could reverse just as quickly if the opposition's chances look shaky, said Michael Hiley, head of OTC energy trading at LPS Futures in New York. In the longer term, the ouster of current President Nicolas Maduro could lower prices if means an end to U.S. sanctions, he said.
"They have some of the best reserves in the world and you would just need the proper capital investment to crank that up again," Hiley said. "It will ultimately end up with more oil on the market, but short-term the knee-jerk movement for prices is still up."
Other oil-market news:
Gasoline futures traded up 1.9 percent to $2.1232 a gallon.

Warren 

Buffett's intervention

 in Occidental Petroleum Corp.'s $37 billion bid for Anadarko Petroleum Corp. may tip the scales in the oil industry's biggest bidding war in decades.

Oil markets are "fundamentally" tight this year, said BP CEO Bob Dudley, who expects prices in the range of $60 to $75 a barrel.