Oil Rally Peters Out as Demand Concerns Counter Inventory Draws
(Bloomberg) -- Oil rose to a one-week high on signs that OPEC supply cuts are draining U.S. oil inventories, before running out of steam amid ongoing concerns that trade disputes will curb demand growth.
Futures in New York advanced as much as 3.3% just after the Energy Information Administration on Wednesday reported a 10 million-barrel crude draw, in line with an earlier estimate by the industry-funded American Petroleum Institute. Prices shed about half those gains after follow-through buying failed to materialize and investors turned their attention back to broader trade concerns.
"The market is still very concerned about the tariffs and trade wars" and their effect on oil demand, said Andy Lipow, president of Lipow Oil Associates LLC. Investors aren't just grappling with President Donald Trump's trade fracas with Beijing but also a growing row between South Korea and Japan, which could potentially mar oil demand, he said.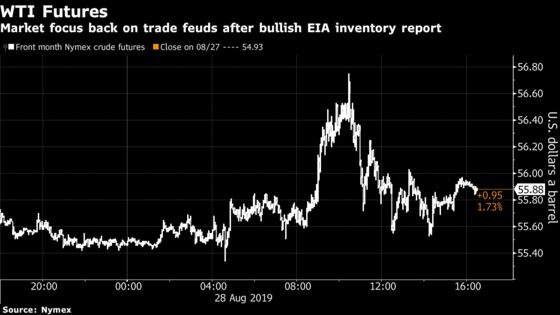 Asia isn't the only area where trade disputes are dragging out uncertainties in oil consumption. In Europe, the U.K. is still in the throes of coming up with a Brexit agreement. "Being unable to come up with a deal on Brexit efficiently could slow down trade. And that would affect oil demand," said Vikas Dwivedi, a global oil and gas economist at Macquarie Capital USA Inc. in Houston.
West Texas Intermediate crude for October delivery settled 85 cents higher at $55.78 a barrel, after touching $56.75.
Brent for October settled up 98 cents at $60.49 a barrel on the ICE Futures Europe Exchange, after earlier touching $61. The global benchmark traded at a premium of $4.71 a barrel to its U.S. counterpart.
Still, one thing the market has to watch out for in the coming weeks is U.S. production. Today's record weekly volume at 12.5 million barrels a day, as it accumulates, will drag on prices, said Dwivedi.
"The draws can come and go and fade off seasonally because of refinery turnarounds and demand softness," he said. "But the supply, if the growth is as fast as today's numbers, it could keep being a worry for several months."
Other oil-market news
Gasoline futures rose 2% to $1.6824 a gallon
Morgan Stanley cut its oil-price forecasts, saying that OPEC will need to make even deeper output reductions next year. The bank lowered its 2020 outlook for Brent to $60 a barrel.
Hurricane Dorian is about to lash Puerto Rico with torrential rains, and then is expected to gain strength and become the first major hurricane to hit Florida's east coast in 15 years.
Enbridge Inc.'s proposed shift to long-term crude shipping contracts on its Mainline pipeline network is drawing the ire of a growing number of producers, and now Canada's energy regulator is getting involved, which could delay the process.