Crude Sinks to Lowest in a Year as Coronavirus Panic Increases
(Bloomberg) -- Oil tumbled to the lowest since early January 2019 on mounting fears of the coronavirus contagion wreaking havoc on economic growth.
Futures fell 3.4% in New York on Thursday and are poised for the worst weekly loss since 2014 as the coronavirus spreads further outside of China, roiling financial markets. The S&P 500 sank as much as 10% since last Friday and pushed the index into a correction, while the Dow Jones Industrial Average fell to the lowest in almost five months. California's governor said the state was monitoring 8,400 people for the virus on Thursday, adding to the alarm of a global pandemic.
"We definitely saw some aggressive, panic-like selling," said Rebecca Babin, a senior equity trader at CIBC Private Wealth Management. "There's still some room for downside because emotions are running high with the virus. We need a positive catalyst to put the floor in otherwise the direction is just lower from here."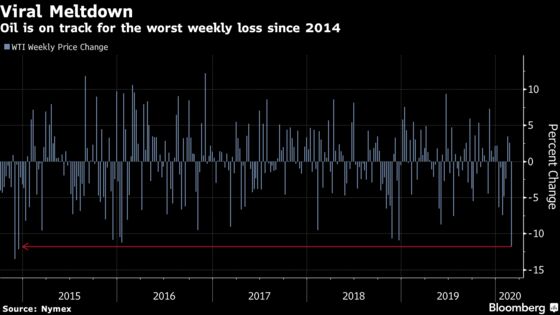 The U.S. benchmark crude has fallen about 23% this year as the virus hits demand for fuels. Investors are assessing whether the Organization for Petroleum Exporting Countries and its allies will be able to agree on deeper production cuts as a response to the coronavirus during a meeting next week in Vienna. Saudi Aramco is already supplying China with 500,000 barrels a day less than normal in March due to the outbreak.
OPEC Secretary-General Mohammad Barkindo said the group and its allies are showing a "renewed commitment" to reaching an agreement that will stabilize oil markets when producers meet.
"The fast-evolving impacts of the virus mean the challenge is akin to catching a falling knife," Bill Farren-Price, a director at consultant RS Energy Group, now part of Enverus, said in an email. "Agree too-small a cut and risk undermining credibility, or over-tighten the market and boost oil prices just at the time when the global economy is flirting with a downturn."
West Texas Intermediate futures for April delivery slid 3.4% to settle at $47.09 a barrel on the New York Mercantile Exchange.
A measure of oil-market volatility surged to the highest level since September.
Brent for April settlement lost $1.25 to end the session at $52.18 a barrel on the ICE Futures Europe exchange, putting its premium over WTI at $5.09.
So-called time-spreads further down the futures curve have also weakened, with the closely-watched December 2020-2021 differential at the weakest in more than a year on Thursday, highlighting the market's demand concerns.
Oil could fall below $30 a barrel if OPEC+ fails to agree to a production cut, Standard Chartered Plc analysts Emily Ashford and Paul Horsnell wrote in a report. Russia has so far resisted pressure from Saudi Arabia for an OPEC+ agreement to cut production further as the virus hits demand.
Other market drivers
Gasoline futures fell 3% to settle at $1.4106 a gallon.
The Trump administration is ready to unleash the full impact of sanctions on Chevron Corp.'s operations in Venezuela as the U.S. seeks to further squeeze the Maduro regime.
Russia's average oil production so far this month fell for the first time since October as the nation prepares for OPEC+ talks in Vienna that may result in deeper output cuts for the group.
Asian petrochemical producers outside of China are starting to

feel

the effects of the deadly coronavirus, with companies cutting output as stockpiles swell and profits crash due to waning demand.
Exxon Mobil Corp. posted the second-worst reserves-replacement performance in its history as a crucial measure of future production capacity faltered.
A tweak to new environmental rules for the shipping industry is just days from taking effect, closing off a loophole for would-be cheats looking to cut their fuel bills.