Crude Vaults to Yearly High as Saudi Shipments to U.S. Dwindle
(Bloomberg) -- Oil prices vaulted above $54 a barrel, the highest since November, as a steep drop in U.S. imports from Saudi Arabia showed OPEC putting its supply cut plans into action.
Futures in New York rose 1.7 percent after the U.S. Energy Information Administration said domestic crude stockpiles rose by about 920,000 barrels last week, less than forecast by industry and private analysts. Imports from Saudi Arabia fell by more than half from the previous week to 442,000 barrels a day, the second-lowest in data going back to 2010.
"There's a lot of good in here, if you're a market bull," said Rob Thummel, managing director at Tortoise, a Kansas-based money manager with $16 billion in energy investments. "OPEC's made it very clear: lower exports of oil are coming to the U.S."
The decline in shipments from Saudi Arabia offered some of the first tangible evidence that OPEC, Russia and other top producers are having an impact with their pledge last year to siphon barrels out of an oversupplied global market. Prices were already surging Wednesday as political turmoil imperiled crude exports from Venezuela and earnings reports from Apple Inc. and Boeing Co. eased fears about the global economy.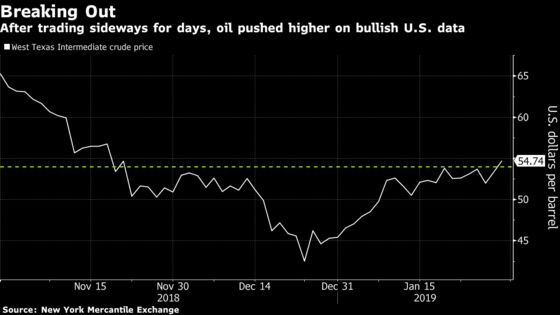 After trading sideways for much of the last two weeks, West Texas Intermediate crude for March delivery added 92 cents to close at $54.23 a barrel on the New York Mercantile Exchange, the highest level since Nov. 21.
Brent for March settlement gained 33 cents to reach $61.65 a barrel on the London-based ICE Futures Europe exchange, and traded at a $7.42 premium to WTI.
In an encouraging sign for demand, the EIA said gasoline supplies fell for the first time in nine weeks. That defied forecasts for an increase during a time when the weather and refinery maintenance usually slow consumption. The spread between gasoline and oil futures, a rough measure of refiners' profit margin, jumped 15 percent, though at just under $5 it's still near the lowest in a decade.
"Consumers do respond to low gasoline prices and low oil prices by driving more," Thummel said. "We're in a growing economy and that bodes well for demand."
In Venezuela, owner of the world's largest oil reserves, President Nicolas Maduro offered to hold talks with his political opposition, as the U.S. and other countries continued to press him to resign.
Investors are waiting to see if Caracas decides to declare force majeure in response to new American sanctions -- a move that could affect almost 12 million barrels of exports next month, according to a loading program seen by Bloomberg. Force majeure protects a party from liability if it can't fulfill a contract for reasons beyond its control.
Traders are also waiting for any signs of progress in negotiations between the U.S. and China to resolve a trade dispute. The two countries will sit down in Washington on Wednesday for two days of high-level discussions after U.S. Treasury Secretary Steven Mnuchin told the Fox Business Network that he expected "significant progress" in the talks.
Other oil-market news:
Gasoline added 2.3 percent to trade at $1.3823 a gallon.
Exxon Mobil Corp. is pulling the trigger on a giant crude pipeline out of the Permian Basin with Plains All American Pipeline LP and Lotus Midstream LLC.
Independent Brazilian producer Petro Rio SA will take control of the Frade field off the country's coast after agreeing to buy Chevron Corp.'s 52 percent stake, with more acquisitions potentially on the way.