Oil Dips With Near-Term Demand Concerns Holding Back Rally
(Bloomberg) -- Oil edged lower as the worsening near-term coronavirus outlook raised concerns over the obstacles still facing crude's fledgling recovery.
Futures in New York fell less than 1% Tuesday after a choppy session. While much of the world awaits a wider distribution of the vaccine, a coronavirus flare-up in China is threatening fuel demand during the Lunar New Year. Oil pared most of its loss for the day after the American Petroleum Institute was said to report a drop in U.S. crude stockpiles.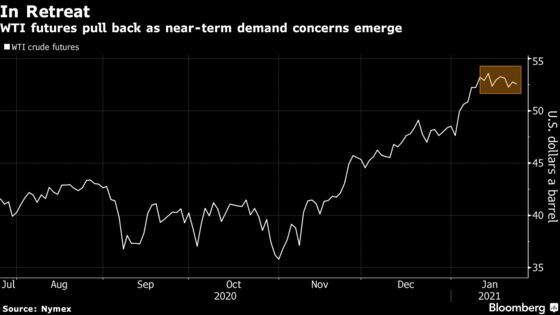 Oil has surged almost 50% since the end of October, but the rally has started to falter with obstacles still facing the recovery in global fuel demand. Vaccine coverage won't reach a point where it will stop the transmission of the virus in the foreseeable future, the World Health Organization said on Monday. Meanwhile, the U.K. exceeded 100,000 Covid deaths, serving as a stark reminder of the long road ahead before countries emerge from the pandemic.
"The fundamental oil picture is firmer for mid-year, but it's not really that tight" compared to other years, said Rick Joswick, head of oil pricing analytics at S&P Global Platts. The risk that shale producers may eventually increase production also "puts a cap on the back end of the forward price curve."
Prices
West Texas Intermediate for March delivery was trading at $52.70 a barrel as of 4:51 p.m in New York, after settling at $52.61 a barrel
Brent for March settlement rose 3 cents to end the session at $55.91 a barrel
The API estimates U.S. crude stockpiles dropped by 5.27 million barrels last week, according to people familiar with the report. But it also said gasoline and distillates inventories grew. U.S. government figures will be released on Wednesday.
Despite the day-to-day fluctuations in headline crude prices, the market's structure has been firming. Brent's prompt timespread was 27 cents a barrel in backwardation on Tuesday, where near-dated contracts are more expensive than later-dated ones. The spread is at the strongest level since late February.
Meanwhile, WTI's prompt spread is also in backwardation, with the API report also showing stockpiles at the nation's largest storage hub in Cushing, Oklahoma, fell by nearly 3.5 million barrels last week.
About 1.7 billion trips are expected across China over the Lunar New Year period, down 40% from 2019, although 15% higher than last year. The travel rush, which starts on Jan. 28 this year, runs for 40 days and is normally the biggest mass movement of people around the globe as hundred of millions of Chinese jump on planes, trains and automobiles to see their extended families.
Other oil-market news:
Big Oil suffered a fresh setback after one of the most influential rating companies warned it may cut the credit score of Exxon Mobil Corp., Royal Dutch Shell Plc and a plethora of other major energy companies due to "greater industry risk" associated with climate change.
Libya's oil production recovered to around 1.25 million barrels a day after a major pipeline was fixed, while efforts continued to end a strike that could halt exports at three of the OPEC country's ports.
The U.S. is trying to seize around 2 million barrels of what it thinks is Iranian oil, according to people familiar with the matter, in Washington's latest attempt to block the Islamic Republic's energy exports.
Energy Transfer LP's infamous Dakota Access oil pipeline suffered another blow Tuesday when a judge upheld a decision to scrap a key permit, threatening a system that has already been up and running for more than three years.