Crude Rises With Potential Virus-Relief Deal Fueling Optimism
(Bloomberg) -- Oil climbed to the highest since February as U.S. lawmakers discuss a virus relief deal that could provide a near-term boost to demand ahead of a wider distribution of the Covid-19 vaccine.
"Stimulus is a big driver," said Gary Cunningham, a director at Stamford, Connecticut-based Tradition Energy. "As we see more stimulus money coming through Congress, it brings more certainty to U.S. economic conditions improving and folks getting back to more free spending."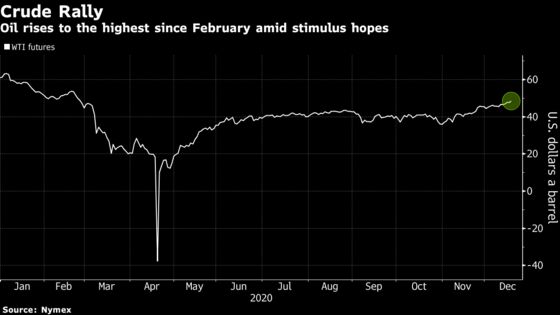 Still, the road to normal oil demand remains shaky as virus cases spike around the world, leading to tougher restrictions that hamper mobility. The U.S. topped 17 million total virus infections, while Tokyo raised its warning on the city's medical system to the highest of four levels. At the same time, technical indicators show both Brent and West Texas Intermediate crude futures in overbought territory, signaling a pullback may be in store.
Meanwhile, the Bloomberg Dollar Spot Index weakened as much as 0.5%, raising the appeal for commodities priced in the currency.
"Dollar-denominated commodities across the board are getting pumped up," said John Kilduff, a partner at Again Capital LLC. "It bodes well for demand, because it's becoming so much cheaper for countries like India that have to do the currency translation. This is effectively a big price cut for foreign buyers of crude oil."
Prices
West Texas Intermediate for January delivery gained 54 cents to settle at $48.36 a barrel
Brent for February settlement rose 42 cents to end the session at $51.50 a barrel, the highest since early March
Both benchmarks' 14-day Relative Strength Index were above 70 at settle
The mixed outlook for demand has weakened the front of Brent's forward curve, which fell back into a bearish contango structure for the first time in more than a week.
"It was a textbook flip into a backwardated curve, and typically you don't see that when you have inventories as high as they are right now," Jeff Currie, global head of commodities research at Goldman Sachs Group Inc., said in a Bloomberg Television interview. "So I'm a little cautious."
Still, physical markets appear robust as India's refineries run at full tilt and Asian demand drives the price of Russian, Middle Eastern and U.S. barrels higher. Meanwhile, the combined refining margin for gasoline and diesel against WTI surged above $11 a barrel on Thursday to its highest since July.
Other oil-market news:
The OPEC+ group of oil producers has shown it's capable of maintaining unity even during "the hardship of this pandemic," Saudi Energy Ministry Prince Abdulaziz Bin Salman said at a briefing in Riyadh.
European air traffic rose by about 14% week-over-week, though still remained well down year-over-year, according to a report on Eurocontrol's website.
Abu Dhabi National Oil Co. is among suitors interested in a majority stake in one of the first Egyptian army-held companies being offered to investors, according to people familiar with the matter.