Oil Rebound Fizzles as Treasury Denies U.S. Easing China Tariffs
(Bloomberg) -- Oil's after-market rebound waned Thursday after the U.S. Treasury Department disputed a report that the Trump administration might ease trade tariffs against China.
Futures in New York climbed as much as 0.5 percent, erasing what had been a losing session, before slipping again. The turnaround came after the Wall Street Journal said Treasury Secretary Steven Mnuchin is a proponent of rolling back the penalties, citing unnamed sources. The Treasury Department denied the report.
"Oil has had a good run" this year, thanks to rising optimism about a trade deal, said Harry Tchilinguirian, head of commodity markets strategy at BNP Paribas SA. "Concerns have eased as a result of the U.S. and China sitting down together."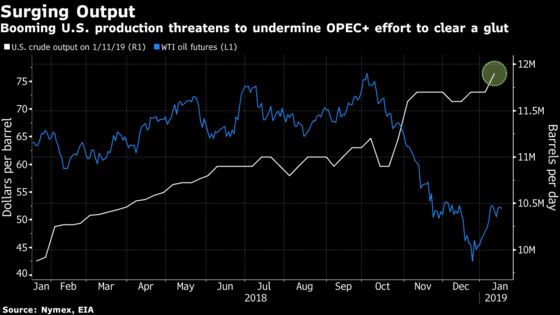 The midday surge undid a 0.5 percent loss for U.S. crude at the close of official trading in New York. While OPEC said Thursday that the cartel's production has fallen by the most in two years, a U.S. government report also showed American drillers pumping at record levels. Russia, meanwhile, pledged to accelerate its own output cuts.
West Texas Intermediate crude for February fell 5 cents to $52.26 a barrel on the New York Mercantile Exchange at 4:15 p.m., after settling at $52.07.
Brent for March settlement was at $61.21, after closing at $61.18. The global benchmark crude sold at an $8.82 premium to WTI for the same month.
Crude has recovered more than 20 percent from a low on Christmas Eve, yet it's still below the four-year peak reached in October. Whether prices will remain in a bull market largely depends on the impact of the 1.2 million barrel-a-day in cuts pledged by major crude producers.
"There are unknowns this year. What we see on the bearish side is that production is at a record. On the bullish, OPEC is cutting production," said Bill O'Grady, chief market strategist at Confluence Investment Management in St. Louis.
In America, crude production climbed by 200,000 barrels a day last week to 11.9 million daily barrels, the highest level in weekly figures compiled by the Energy Information Administration since 1983. While nationwide inventories dropped for a sixth time in seven weeks, stockpiles of gasoline and distillates rose by more than twice the amount estimated in a Bloomberg survey.
Saudi Arabia slashed its crude shipments to refiners in the U.S. by 32 percent to 684,000 barrels a day in the week ended Jan. 11, after exporting more than 1 million barrels a day the previous week, according to preliminary data from the EIA.
The kingdom's energy minister lamented earlier this week that Russia -- a key member of the producer alliance -- wasn't cutting output more quickly. The slow pace was the result of the winter freeze in Siberian oilfields, Russian Energy Minister Alexander Novak told reporters Thursday. He said the country aimed to catch up.
Other oil-market news:
Gasoline gained 1 percent to $1.43 a gallon in New York trading.
OPEC compliance with crude oil output cuts rose to 163% in December.
The U.S. is likely to allow China, India, Japan, South Korea and Turkey to import Iranian oil past a May 4 waiver deadline, despite recent comment to the contrary, Eurasia Group said in note.