Oil Resumes Rally as Stockpiles Seen Lower, China Eyes Tax Cuts
(Bloomberg) -- Oil climbed as investors anticipated another decline in U.S. crude inventories and China promised to slash taxes to avert an economic slowdown.
Futures in New York rose 3.2 percent after sinking during the past two sessions. American stockpiles probably fell for the sixth time in seven weeks, according to a Bloomberg survey of analysts before government data due Wednesday. After trading closed, an industry report offered a more tepid view on demand, with big increases in U.S. gasoline and diesel inventories.
The U.S. Energy Department, meanwhile, forecast continued growth for world oil demand.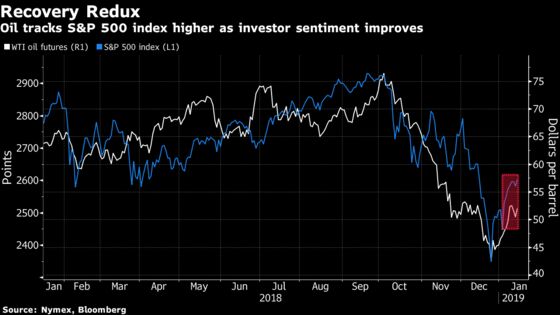 Oil resumed its New Year's advance along with major equity indexes after China said it would cut taxes to counter any slowdown. While prices remain more than 30 percent below October's four-year high, they've rallied in 2019 on signs of shrinking supplies and indications the global economy can avoid a worst-case scenario.
"The Chinese are throwing everything they can" at their economy, said John Kilduff, founding partner at hedge fund Again Capital LLC. "That's the big key to oil markets, especially when you have OPEC and Russia starting to rein in production."
West Texas Intermediate for February delivery climbed $1.60 to $52.11 a barrel at the close of trading on the New York Mercantile Exchange. Prices dipped slightly to $51.91 after the American Petroleum Institute was said to report gasoline and distillate stockpiles grew by a combined 9.2 million barrels last week.
Brent for March settlement gained $1.65 to $60.64 on the London-based ICE Futures Europe exchange, and traded at an $8.25 premium to WTI for the same month.
U.S. crude inventories fell by 560,000 barrels last week, the API was said to report. A separate survey by Bloomberg on Tuesday forecast nationwide stockpiles probably declined by 2.5 million barrels. If confirmed by government data due on Wednesday, that will keep inventories near the lowest level since early November.
"It was very doom and gloom in December but we had no official data to back that up," said Ashley Petersen, lead oil market analyst at Stratas Advisors in New York. "Now the data that's coming back is not really that bad. It may be pointing toward a slowdown, but it doesn't look like a contraction, and those are two very different worlds."
Other oil-market news:
Gasoline prices rose 3.5 percent to $1.4114 in New York.
OPEC and its allies will review their output cuts in Azerbaijan in March before ministers gather in Vienna the next month to discuss future steps.  
Alberta Premier Rachel Notley told reporters she's "hopeful" the province can reduce mandatory oil production curtailments as April approaches.
The U.S. will be a net exporter of crude and refined products by as soon as September 2020 and will ship out at least a million barrels a day more than it brings in by the end of next year, according to a government forecast.