Oil Jumps as U.S. Equities Regain Ground, OPEC Output Declines
(Bloomberg) -- Oil prices closed higher on the first trading day of 2019 as U.S. equities recovered from early losses and data showed OPEC getting an early start on a promised production cut.
Futures picked up where they had left off in a volatile 2018, with global benchmark Brent crude reversing course in the middle of the trading session to end Wednesday up 2.1 percent. West Texas Intermediate oil climbed as well, erasing earlier losses brought on by disappointing manufacturing data out of China. The S&P 500 Index held onto a slight gain, offering a hopeful sign for economic growth.
Output from the Organization of Petroleum Exporting Countries fell by the most in almost two years in December, according to a Bloomberg survey of officials, analysts and ship-tracking data. The half-million barrel-a-day reduction began even before a cut that was scheduled to start this month, highlighting the urgency that crude exporters feel to stem a market that's been in freefall.
"The cuts are big and will grow," Phil Flynn, a markets analyst at Price Futures Group Inc., said in an email. "It will lead to big draws on supply."
Investor's skepticism about OPEC's ability to prevent a surplus this year had helped drive prices to an almost 40 percent decline to end 2018. Traders have worried any cutbacks won't be deep enough to make way for booming supplies from U.S. shale drillers. International trade disputes and interest rate hikes in the U.S. have added to the downdraft facing oil.
"We've seen a couple of times where the market's attempted to pick itself up and it seems the selling pressure always returns," said Gene McGillian, market research manager at Tradition Energy in Stamford, Connecticut. "Until we see more evidence that fundamentals in the market are not as weak as some think, I think we're going to keep feeling that pressure."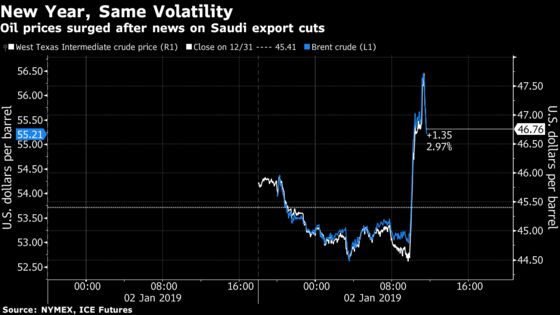 Crude exports from Saudi Arabia also fell by a half-million barrels a day in December, led by lower flows to the U.S. and China, according to tanker tracking data compiled by Bloomberg, and the United Arab Emirates showed a decline as well.
"It looks like they are very much targeting inventory in the U.S., as that affects the high-frequency data that moves traders in or out of the oil market," said Bart Melek, head commodity strategist at TD Securities in Toronto.
West Texas Intermediate for February gained $1.13, or 2.5 percent, to $46.54 a barrel on the New York Mercantile Exchange at settlement, recouping an earlier fall to near $44. Total volume traded Wednesday was about 20 percent above the 100-day average.
Brent for March settlement rose $1.11 to $54.91 a barrel on the London-based ICE Futures Europe exchange, and traded at an $8.05 premium to WTI for the same month.
See also: Are Stocks Moving Oil? Is Oil Moving Stocks? The Answer is Yes
While President Donald Trump made positive noises about reaching a trade deal with Chinese counterpart Xi Jinping over the weekend, the Chinese data -- and similar readings from across Asia -- gave a stark example that the showdown is starting to have an impact on economic activity.
Trump, meanwhile, kept up his campaign to push prices down, boasting in a tweet Tuesday about low gasoline prices that he likened to a tax cut for consumers. He also signaled he wants to "make a deal" to break a stalemate that's had part of the U.S. government shut for 11 days.
Other oil-market news:
Gasoline prices rose 1.8 percent to $1.3256 a gallon in New York trading.
Halliburton Co. said Dave Lesar had stepped down as chairman, ending a 25-year run with the oil-services giant that included its ill-fated bid for Baker Hughes Inc.
OPEC oil output declined by 825,000 barrels a day in December and is set to drop 870,000 barrels a day in January, consultant JBC Energy wrote in a report.