Oil Market Shows Fear That U.S. Is Running Out of Storage Space
(Bloomberg) -- The U.S. oil market is displaying worries that stockpiles are going to run out of storage space, with futures being whipsawed as a growing glut counters economic stimulus measures.
While crude in New York rose for a third day as the U.S. made progress on an economic aid package, the so-called WTI cash roll traded down at the lowest level since December 2008 on expectations that inventories at the delivery point for U.S. futures would balloon in coming weeks and months. Gauges of the physical market for actual barrels of crude are also pointing to weakness.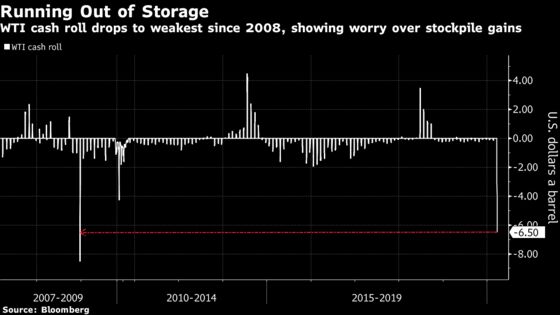 The WTI cash roll, which traded down to -$6.50 a barrel Wednesday, allows traders to push long positions forward to later months or cover short positions in the three days following the expiration of the prompt New York Mercantile Exchange futures contract.
"Investors are still grappling with the magnitude of decreased demand," said Nick Holmes, portfolio manager at Tortoise. "Combine that with more supply hitting the market, it creates severe dislocations across oil markets. There's a lot of uncertainty about how long demand will be depressed and at what levels."
As the coronavirus pandemic locks down swathes of the world, concern over the hit to consumption is mounting. The head of Vitol Group warned demand is decreasing and will shrink further as India enters a lockdown.
In the U.S., lawmakers struck a deal to provide $2 trillion of spending and tax breaks. That, along with massive refinery production cuts, supported gasoline futures in New York, which surged 23%. The price jump was enough to push the crude-to-gasoline spread back into positive territory for the first time this week.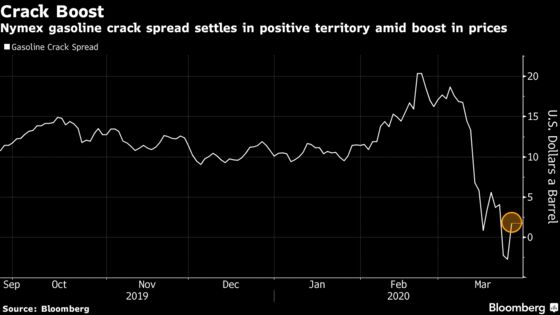 American leaders also took a stronger stance with Saudi Arabia amid its price war with Russia. Secretary of State Michael Pompeo spoke to Crown Prince Mohammed bin Salman, urging him to "rise to the occasion and reassure" energy markets at a time of economic uncertainty.
The intervention comes as the global crude surplus worsens, with a U.S. government report on Wednesday showing stockpiles rose 1.62 million barrels last week to the highest level since July. Inventories have risen for the past nine weeks nationwide and for three straight weeks at the key storage hub of Cushing, Oklahoma.
Prices:
West Texas Intermediate gained 48 cents to settle at $24.49 a barrel in New York.
Brent futures rose 24 cents to settle at $27.39 a barrel.
Meanwhile, funding for U.S. President Donald Trump's plan to fill up the nation's emergency oil reserve to help struggling drillers cope with the price crash failed to make it into the latest stimulus legislation but could return in other forms.
In refined products, the so-called 3-2-1 crack, the yield for refining a barrel of crude, reached its highest level this week, as trucking demand supports diesel margins.
Other oil-market news
As the U.S. finds itself in the unfamiliar position of lobbying for higher oil prices, China's enjoying what amounts to a major rebate from crude's crash just as it tries to recover from the coronavirus.
The hired hands of the global oil industry probably will shed more than 1 million jobs this year due to collapsing crude prices, according to Rystad Energy.