Oil Rallies With Investors Eyeing Demand Recovery, Output Cuts
Oil rallied as investors looked past an increase in U.S. crude stockpiles to focus on tentative signs of a recovery in fuel demand as well as output cuts.
Futures in New York rose 2.7% Thursday. While U.S. government data showed that American crude stockpiles rose last week, the demand outlook is improving. The four-week average of gasoline supplied to the market has steadily risen as parts of the country emerge from coronavirus lockdowns. The Energy Information Administration again posted a large negative adjustment factor, indicating that production is probably lower than official data show.
"You still have a significant amount of production offline, which is helping bring supply and demand in balance, all the while, you have demand starting to recover as states open up in various stages," said Nick Holmes, a portfolio manager at Tortoise. "People are looking more to the supply and demand equation."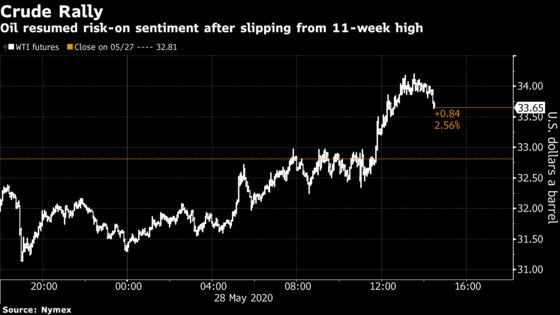 Rallying equity markets also supported oil's rise. Stocks have recovered globally to levels last seen in early March on fresh stimulus measures and hopes that economies are on the mend as lockdowns ease. U.S. unemployment filings shrank for the first time since the outbreak began, even as millions more Americans filed for unemployment benefits.
Economic improvement and declining crude supplies are key to lifting prices as the market contends with both a massive global inventory glut and diminished demand due to the pandemic. Production cuts and the easing of lockdowns have helped boost oil nearly 80% this month. But the market remains fragile, with high prices likely to spur producers to restart wells and undercut gains.
The physical market has been showing some signs of strength, with refiners across Asia buying distressed cargoes in an indication of demand. OPEC+ is set to meet June 9-10 to decide whether to extend output cuts beyond July. Russian President Vladimir Putin and Saudi Arabian Crown Prince Mohammed bin Salman reiterated their cooperation on the deal ahead Wednesday. The Kremlin described the call as positive on Thursday.
Additionally, Abu Dhabi National Oil Co. said it will reduce crude production in line with the OPEC+ agreement and government directives, according to a company notice to buyers, agreeing to cut shipments of all crude grades by 5% for July.
Prices
West Texas Intermediate crude for July delivery rose 90 cents to settle at $33.71 a barrel in New York
Brent for July settlement, which expires Friday, climbed 55 cents to $35.29 a barrel