Oil-Industry Collapse Accelerates With Scores of Rigs Going Dark
(Bloomberg) -- The oil industry's meltdown is accelerating as explorers shut down scores of drilling rigs across the U.S. in response to cratering crude prices and expanding supply gluts.
Oil companies idled 40 rigs this week, twice the pace of last week's reduction and the steepest contraction since April 2015, according to data released by Baker Hughes Co. on Friday.
More than half the shutdowns occurred in the Permian Basin of West Texas and New Mexico, an ominous sign for an industry that survived the last market crash in large part by retreating to that region because of its resilience to weak pricing.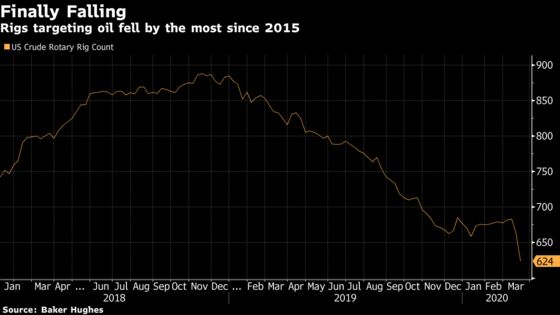 Benchmark U.S. oil futures have plunged 65% this year and are on pace for the most painful quarter since at least 1990. This week's rig shutdowns bring the two-week total to 59, a cut of almost 9% of the nation's active fleet.
North America, which has been roiled by contractions in the past, may see a sharper, more abrupt cut in drilling activity before the end of the second quarter, Schlumberger Ltd., the world's biggest oilfield service company, said this week.
Halliburton Co., the king of fracking and the No. 3 overall service provider, is planning for almost two thirds of all rigs on the continent to shut down by the fourth quarter.