Bond-Market Bargain or Pariah? Oil Clouds Bahrain's Outlook
(Bloomberg) -- Bahrain went from being a bond-market pariah to a darling this year after its Gulf neighbors came to the rescue to ward off any default. But falling oil prices have put the island kingdom's finances under scrutiny again.
After outperforming Gulf peers in the third quarter, Bahrain's dollar debt has been hurt by crude's slump in the past two months. Investors are concerned about the government's ability to put an austerity plan into action, with oil prices below what it needs to balance the budget. Bahrain's cost-cutting targets, aimed at eliminating the budget deficit by 2022, are ambitious, Fitch Ratings said in October.
"Gulf Cooperation Council loans will help pull Bahrain back from the brink, but without meaningful fiscal reform, they just kick the can down the road," said Brett Rowley, the Los Angeles-based managing director for emerging markets at TCW Group Inc, which holds about $198 billion. In addition, "a sharp drop in oil prices could jeopardize recently pledged assistance," he said.
TCW held Bahrain bonds as of end-September, according to data compiled by Bloomberg.
The nation's bonds remain the best performers among Gulf peers this year, returning 3.8 percent, according to Bloomberg Barclays indexes. Their inclusion in JPMorgan Chase & Co. emerging-market bond indexes starting end-January is cushioning the blow, according to Arqaam Capital, a Dubai-based investment bank.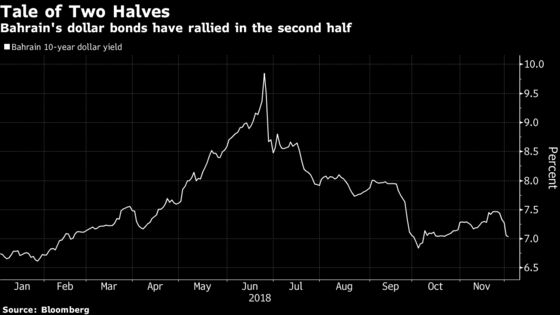 Bahrain is the biggest beneficiary of index inclusion among Gulf peers, said Abdul Kadir Hussain, the head of fixed income at Arqaam. Based on the index weightings, flows into Bahrain will be as much as 45 percent of its outstanding bonds, compared with as much as 30 percent for other countries in the region, he said.
"I suspect the technicals would win out," he said. "I would not sell or reduce Bahrain here."
By contrast, Oman is the worst performer in the Gulf this year because of its vulnerability to falling oil prices and a "potential re-balancing," given the sultanate was already included in JPMorgan's emerging-market indexes, Hussain said.
Resilience or no, Bahrain remains the "weakest spot" in the Gulf, said Ehsan Khoman, head of Middle East and North Africa research and strategy at MUFG Bank Ltd. in Dubai. It's the only oil producer in the region that needs prices to climb beyond $100 a barrel to balance the budget in 2018, according to International Monetary Fund estimates. Net foreign assets at the central bank fell for a second month to about $1.4 billion in October.
Belt-tightening was a condition for the $10 billion bailout from Bahrain's neighbors, which will be spread over five years.
The impact from oil "could have been materially worse" had it not been for the assistance, Khoman said.