Oil CEOs Jostle for Global Natgas Crown Under Putin's Gaze
(Bloomberg) -- Two oil company bosses shared a stage with one of the most powerful men in the market, and all they wanted to do was brag about natural gas.
Royal Dutch Shell Plc Chief Executive Officer Ben van Beurden hailed his $31 billion liquefied natural gas venture in Canada, the biggest new project since 2013. Very nice, but not as competitive as low-cost Russian supplies, said Total SA boss Patrick Pouyanne.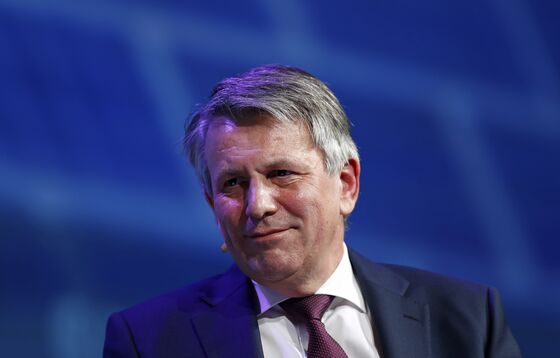 This jostling for position -- live on stage in Moscow alongside President Vladimir Putin, shows the increasing importance of the global LNG market. It also highlights the growing role of Russia, where Total is set to overtake Shell in production of the fuel. Russia is also striving to become one of the world's biggest LNG exporters, challenging Qatar, the U.S., and Australia.
"Canada is competitive, but the Yamal peninsula is more competitive," Pouyanne said at the Russian Energy Week conference, sitting just a few feet from van Beurden.
Shell this week announced that, together with its partners, it would build the LNG Canada plant -- in what will be the nation's largest ever infrastructure project.
Van Beurden also touted Shell's long-standing joint venture facility at Sakhalin-2 as "the best LNG project in the world in terms of its performance and track record." He added that another prospective LNG venture with Gazprom PSJC in the Baltic Sea was "extremely promising."
Total has a 20 percent stake in Russia's Yamal LNG plant that cost a combined $27 billion and has agreed to invest in the new Arctic LNG-2, located in the same area in Russia's far north. The new project with a higher capacity than the LNG Canada project may cost $20 billion to $22 billion, according to Pouyanne. Putin gave an estimate of about $25 billion.
Shell is the largest LNG trader in the world, followed by Total. The comments highlight the companies' different positions in Russia, where the domestic market is dominated by Russian producers and state-run Gazprom has a monopoly over pipeline exports, but foreign companies have spied an opportunity in LNG. Total has led the charge, doubling down on its investments despite U.S. financial sanctions on its Russian partner Novatek PJSC.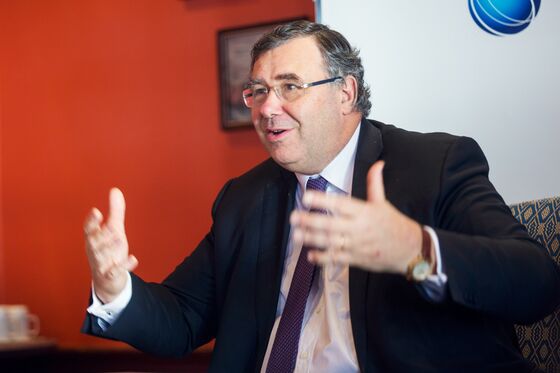 In gas, domestic producers -- Gazprom, Novatek and Rosneft PJSC-- far outstrip anything any foreign company is doing.
While Shell and Total had a similar start in Russia, the French producer has recently surpassed its larger rival by the scale of projects in the country, mainly in natural gas. Russia has become the largest source of hydrocarbon output for Total, producing 318,000 barrels of oil equivalent a day last year, almost 13 percent of its global total.
Shell's production from its Russian joint ventures was around half that, and contributed just 4 percent to its total. The U.S., Brazil and Australia were the countries where Shell produced the most oil and gas: Russia trailed behind at number 10.
The Sakhalin-2 joint venture, where Shell has a 27.5 percent stake, was Russia's only LNG plant, producing 11.49 million tons last year, until Yamal LNG launched last December. Once Yamal reaches its full planned capacity, Total will overtake Shell in terms of its equity share of LNG production from Russia.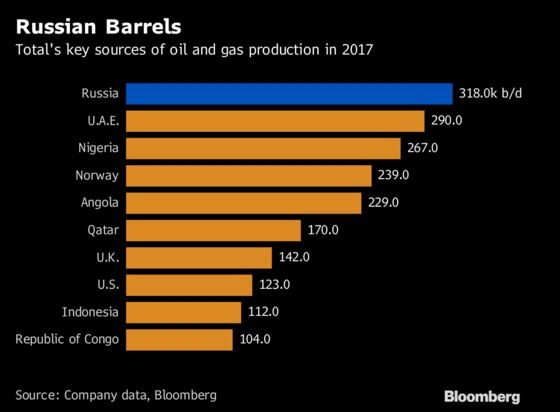 Both European majors tapped Russia's market in the early 1990s when Boris Yeltsin's government sought international cash and technology to develop an industry which had been torn apart after the collapse of the Soviet Union. Shell and Total were among pioneers who signed production-sharing agreements with the government at the time. Both had trouble with these pacts when President Vladimir Putin came to power.
Shell made a bet on cooperation with the state-run Gazprom since then, with a multi-billion dollar list of new projects, including the Nord Stream 2 gas pipeline to Europe and new LNG facilities, all of which are yet to be completed. Total's wager was on non-state-owned Novatek, Russia's largest LNG developer. Total bought 19.4 percent of Novatek, now worth almost $11 billion, as well as stakes in the Russian producer's other projects in the Arctic.
Both Pouyanne and van Beurden seemed to agree that there would be sufficient demand for all the prospective gas production projects. "We are looking at a market that will be tightening up in the next few years," van Beurden said. "In the 2020s we will probably see that demand will remain unfulfilled in very significant proportions."