Oil Bullishness Is at a 4-Month High
(Bloomberg) -- It seems hedge funds are jumping on the $100 crude bandwagon.
As speculation increases that global oil prices could again trade that high, money managers are piling on bullish wagers, while short-selling shrinks. They are the most optimistic on a rally of Brent crude in over four months. Last week, the benchmark closed above $80 for the first time since 2014.
"If you look at oil, it's been the hot commodity. It's the place to go right now," said Rob Thummel, managing director at Tortoise, which manages $16 billion in energy-related assets. "Everyone is recognizing that there is not a lot of spare capacity. There is not a lot of margin for error in the oil markets right now."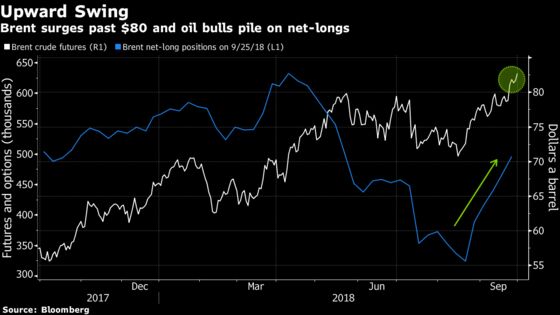 As Iranian and Venezuelan barrels disappear from the market, Trafigura Group and Mercuria Energy Group Ltd. are two of the major oil-trading houses predicting a return to three-digit prices. Patrick Pouyanne, the chief executive officer of oil giant Total SA, echoed their call.
"The price action itself is going to attract attention," said Bill O'Grady, chief market strategist at Confluence Investment Management LLC in St. Louis "But, the underlying fundamentals are actually pretty bullish."
Hedge funds' net-long position -- the difference between bets on higher prices and wagers on a drop -- in Brent rose 6.1 percent to 496,343 contracts for the week ended Sept. 25, the highest since late May, ICE Futures Europe data show. Longs rose for a fifth straight week, while shorts dropped to the lowest since May 2016.
Some technical indicators signal caution, though. Brent settled above the so-called upper bollinger band last week and has lingered near that level, a sign that the commodity could be overbought and might be due for a price decline.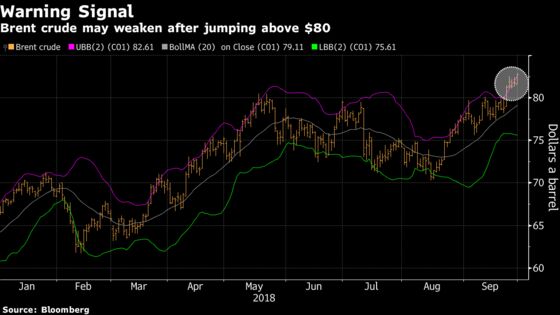 "We've had a pretty sizable run over the last two weeks," said Rob Haworth, who helps oversee $151 billion at U.S. Bank Wealth Management in Seattle. "There may be reason for speculators to start looking to harvest some profits here after a pretty solid run."
Net-longs in West Texas Intermediate crude declined 0.3 percent to 332,143 futures and options, according to the U.S. Commodity Futures Trading Commission. Longs rose 0.3 percent, while shorts increased 8.3 percent.
Money managers boosted their net-long positions on benchmark U.S. gasoline by 15 percent and increased their bullish bets on diesel by 4.1 percent, according to the CFTC.