Oddity in Bahrain Bonds a Sign Faith in Gulf Aid Not Enough
(Bloomberg) -- There's an anomaly forming in Bahrain's debt market.
The yield on the island kingdom's dollar bonds maturing July 2022 is about 150 basis points higher than Islamic securities due two years later, according to data compiled by Bloomberg. That's unusual because longer-dated notes typically have higher yields.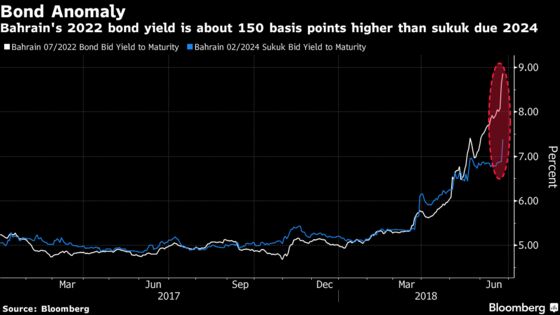 The reason is that demand for the nation's conventional bonds has waned from investors who were once satisfied with the implicit support Bahrain received from its Gulf allies. Meanwhile, a slowdown in Islamic debt sales has kept demand for Bahrain's sukuk buoyant by Shariah-compliant investors, who usually buy and hold the notes till maturity.
The market wants public assurances Saudi Arabia and other neighbors will offer aid as Bahrain's finances deteriorate, according to Abdul Kadir Hussain, the head of fixed-income asset management at investment bank Arqaam Capital Ltd. in Dubai. "There are many forms this support could take, from simply maintaining some dollar deposits in the Bahraini banking system all the way to explicit guarantees or direct help."
The island kingdom was said to have asked Saudi Arabia, the United Arab Emirates and Kuwait for financial assistance last year as it sought to replenish foreign reserves and avert a devaluation. Central Bank Governor Rasheed Al-Maraj said last month the country has enough foreign reserves to maintain the currency's peg.
While other Gulf nations scrambled to cope with falling oil prices, Bahrain has been slow to implement reforms and attract foreign investment. The central bank's foreign exchange assets plummeted to a 2001 low of about $1.2 billion last year. They have almost doubled since, helped by cash raised through debt sales, but the government has about $2 billion of interest payments on bonds through 2019, according to data compiled by Bloomberg.
In the past, Bahrain would issue more notes to shore up its finances. A sudden aversion to risky assets and rising borrowing costs has made access to the market more difficult. In March it scrapped the sale of conventional bonds amid weak demand, opting to go only with the Shariah-compliant offering.
Bahrain is the only Gulf oil producer that needs prices to climb beyond $100 a barrel in order to balance its budget in 2018, according to International Monetary Fund estimates. Brent crude was down 1.8 percent at $74.16 per barrel on Monday.
The yield on Bahrain's conventional bonds due 2022 climbed to a record 8.86 percent 4:02 p.m. in Manama, Bahrain on Monday, well above the 7.39 percent rate on the nation's dollar sukuk due February 2024, according to prices compiled by Bloomberg. Forward contracts on the dinar that expire in 12 months were at 416 points in the off-shore market on Monday after climbing to the highest since October 2016 on Friday. Similar contracts in the onshore market traded at 354 points, set for the highest since August 2016.