OCBC's Wong to Succeed Tsien as First Female Singapore Bank CEO
(Bloomberg) -- Follow Bloomberg on LINE messenger for all the business news and analysis you need.
Oversea-Chinese Banking Corp. named Helen Wong as Singapore's first female bank chief executive officer, putting her in charge of leading the island state's second-largest lender through a severe economic downturn brought on by the coronavirus pandemic.
Wong, 59, is replacing Samuel Tsien who will retire in April after running OCBC since 2012, the bank said in a filing to the stock exchange on Friday. She joined OCBC last year from HSBC Holdings Plc. where she ran the British bank's Greater China operations.
The change in leadership at OCBC, also Southeast Asia's second-largest lender by assets, comes as lenders all over the world battle to contain the impact of the pandemic on global economies. In Singapore, the banks will also soon be competing with tech firms that just won licenses to run digital banks. OCBC's quarterly profit has shrunk for three consecutive periods, in line with Singapore's two other major banks.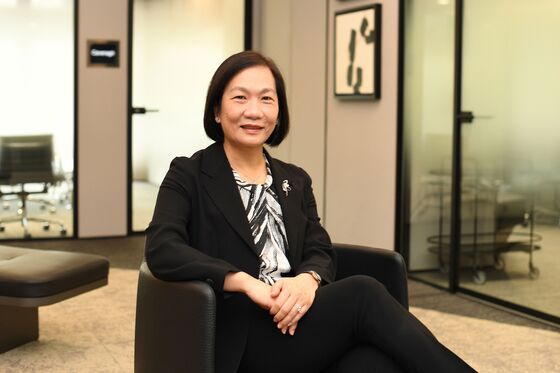 "We had looked at candidates internally in OCBC, and within and outside Singapore before we agreed on Helen as the best qualified person," Chairman Ooi Sang Kuang said in a statement. "Helen's experiences and expertise extend beyond corporate banking, Greater China and North Asia. "
Wong, now head of global wholesale banking, is currently responsible for cash management and trade under the transaction banking business, and investment banking. She started her banking career at OCBC in 1984 before moving to other lenders. Shortly after her return to the Singapore bank in 2020, she helped lead a team to review and redefine OCBC's strategy and operating model.
The new appointment would signal OCBC's continued focus on China, said Kevin Kwek, an analyst at Sanford C. Bernstein in Singapore. "Wong as the chief executive for Greater China at HSBC had focused on the Pearl River Delta for growth, the very same intent of OCBC when current CEO Samuel Tsien acquired Wing Hang Bank in Hong Kong to further the strategy for Greater China."
Under Tsien's leadership, OCBC expanded aggressively in Hong Kong while growing the bank's wealth management business. He spent $5 billion in 2014 to take over Wing Hang Bank in Hong Kong. Two years later, he bought the Singapore and Hong Kong wealth operations of Barclays Plc, helping OCBC's Bank of Singapore become the sixth-largest private bank by assets in Asia excluding China.
Tsien, 66, joined OCBC in July 2007 as the head of global corporate bank before taking the helm in April 2012.
Shares of OCBC closed up almost 4% at S$10.73, slightly above the Straits Times Index's 3% gain for the day.