Ocado Wins Ruling in Patent Fight Over Robot Warehouses
(Bloomberg) -- Ocado Group Plc shares surged after the U.K. company won the first round in a patent-infringement case filed by rival AutoStore Holdings Ltd. that has been hanging over the online grocery-technology provider. 
Ocado shares rose more than 9%, while Autostore dropped as much as 15%. Three AutoStore patents are invalid, while Ocado doesn't infringe a fourth, U.S. International Trade Commission Judge Charles Bullock said in a notice posted on the agency's website. 
The judge's findings of no violation of AutoStore patent rights are subject to review by the commission, which has the power to block or limit the types of robots that Ocado can bring into the U.S. The final decision is scheduled for April.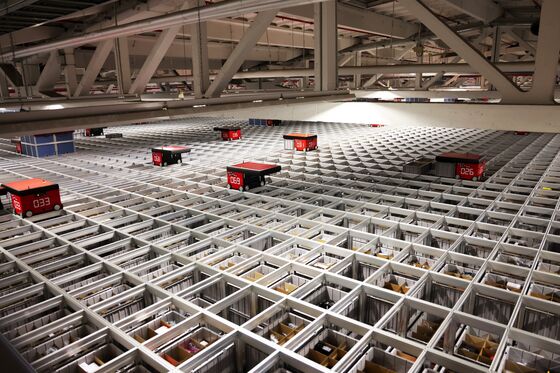 The interim finding is a key ruling for Ocado whose value has soared by more than 400% since 2016 as investors bet that the U.K. company will become the premier provider of online grocery-delivery services worldwide. The company started out as the online delivery partner of Waitrose, an upmarket U.K. grocer, but has since been repositioning itself as a technology company that can provide an "end-to-end" logistics and distribution platform that it can license to retailers around the world. 
AutoStore, which only became a public company in October, is also trying to pursue growth of its automated warehouse robots in the key U.S. grocery market.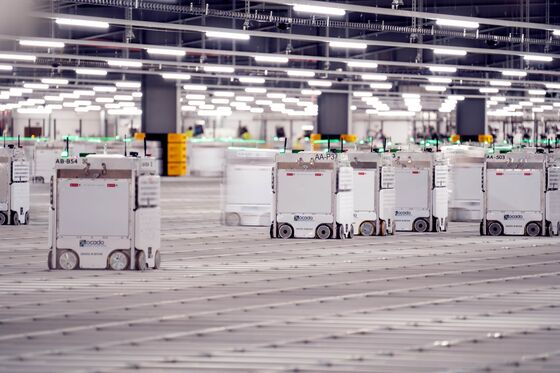 Both companies use vertical-grid robotic warehouse systems and have been quarreling over patents in various jurisdictions since 2016. But the battle heated up just before Ocado signed an agreement for its Smart Platform with Kroger Co., one of the biggest U.S. supermarket chains. 
While there are about 20 players worldwide that handle fulfillment of online grocery orders, the cube-shaped automation systems of Ocado and AutoStore are seen as potential winners because they save a lot of space, analysts say. 
AutoStore, which had made its name with robotic warehouses for Puma, Gucci and Lufthansa, says its technology forms the basis of Ocado's Smart Platform. Ocado argued that AutoStore's Red Line system wasn't good enough for the fast turnover of groceries, so it developed its own machines.
The Norwegian company claimed in U.S. filings that Ocado infringed four patents for the robotic systems. The judge found that, while Ocado used technology covered by three of the patents, those claims failed to fulfill requirements of clearly describing the invention in a way that others can understand. 
AutoStore said it would ask the commission to review Bullock's findings, pointing out that the U.S. Patent and Trademark Office had taken a second look at them and "refused to invalidate the patents at issue in this case."
"This initial determination, even if confirmed by the full commission, would not change our ability to conduct our business in the U.S. or globally," AutoStore Chief Executive Officer Karl Johan Lier said in a statement.
Not all of the findings went Ocado's way. The judge rejected Ocado arguments that the patents covered old ideas, or that AutoStore committed fraud on the patent office to obtain the patents. Bullock's complete findings won't be publicly available for several weeks, to give both sides a chance to redact confidential information.
Ocado is pursuing its own patent-infringement claims against AutoStore in the U.S. and Europe, where it's seeking both cash compensation and orders that would limit AutoStore's operations. 
Ocado shares traded 9.2% higher as of 9:26 a.m. in London.
"This was a misconceived attempt by AutoStore to interfere with our business in the United States," Ocado said. 
Separately, Ocado said while sales dropped in the fourth quarter, revenue in its online grocery joint venture could return to mid-teens percentage growth next year as it prepares for its "best-ever Christmas" and demand for shopping for food over the internet grows. The number of customers using its service is growing and it will invest 50 million pounds ($66 million) to increase capacity to meet the rising demand. 
The case is In the Matter of Certain Automated Storage and Retrieval Systems, Robots, and Components Thereof, 337-1228, U.S. International Trade Commission (Washington).