The Obama-Trump Economy Chugs Along
(Bloomberg Opinion) -- The official, if preliminary, reckoning from the Commerce Department's Bureau of Economic Analysis is that U.S. gross domestic product grew at an inflation-adjusted pace of 2.9 percent in 2018, marking yet another year (every one since 2005) that annual economic growth failed to crack 3 percent. So that's one bragging point President Donald Trump still doesn't have, although he can hold out hope that future GDP revisions might still deliver it.
That said, the BEA's practice of comparing the full year's GDP estimate to the previous year's GDP doesn't really tell you how fast the economy grew during the year, so lots of economists prefer to compare GDP fourth quarter to fourth quarter. Measuring that way gets us to 3.1 percent real GDP growth in 2018, and the first time since 2005 that GDP growth has broken 3 percent by that metric. There's your bragging point, Mr. President.
Once you start measuring growth on a four-quarter basis, it's hard to stop at calendar years, though. And when you chart growth on a rolling-four-quarter basis, the past year starts looking less special.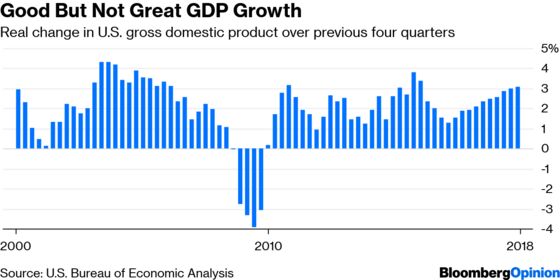 U.S. economic growth seems to have returned to a pace similar to what it was on before the mini-recession of 2015 and 2016, a downturn in oil drilling, agriculture and manufacturing that slowed but did not stall the overall economy. If growth stays around 3 percent for a few more quarters, that would be better than the herky-jerky growth pattern that prevailed before the mini-recession. But most indications are that it won't. Last year's growth was spurred in part by a federal deficit increase of $190.5 billion, which amounts to 0.9 percent of 2018 GDP. While the deficit is expected to keep growing in coming years, it's not expected to grow nearly that much on an annual basis. That means less stimulus, and presumably less chance of four-quarter growth cracking 3 percent again.
As far as growth goes, then, the Trump Economy is looking quite a lot like the Obama Economy. Growth this deep into an expansion is in a way more significant, since lower unemployment rates mean that more people get to share in it and have started to boost wages in a big way. So it's not crazy that consumer confidence has been higher over the past couple of years than it had been since 2000. The economic conditions really have been quite good. But the frequently made claim that the Trump administration has delivered some kind of economic sea change isn't backed up by the GDP numbers.
This column does not necessarily reflect the opinion of the editorial board or Bloomberg LP and its owners.
Justin Fox is a Bloomberg Opinion columnist covering business. He was the editorial director of Harvard Business Review and wrote for Time, Fortune and American Banker. He is the author of "The Myth of the Rational Market."