Oaktree and Aurelius Tell Apollo, Sycamore Enough Is Enough
(Bloomberg) -- Don't try to shortchange Jay Wintrob or Mark Brodsky in bankruptcy court when your retail buyout goes bust.
Wintrob's Oaktree Capital Group and Brodsky's Aurelius Capital Management are kicking back at private equity owners in separate Chapter 11 cases, as investors lose patience for tactics that buyout firms use to reduce their own risks.
Oaktree is contesting Apollo Global Management LLC's role in restructuring Claire's Stores Inc., while Aurelius is zeroed in on plans by Sycamore Partners to turn around Nine West Holdings Inc. Both funds claim the sponsors deprived other creditors of fair recoveries, either by extracting assets before the cases reached court or through their reorganization strategies afterward. While objections from junior creditors are common, and often resolved quickly, Oaktree and Aurelius both know their way around the courtroom, and have abundant resources to press their cases.
"Creditors have become more sensitive to private equity sponsors using loopholes to take value away from them," said Anthony P. Canale, global head of research at the independent firm Covenant Review. He cited coercive debt exchanges that give cooperative creditors a higher priority than holdouts, and strategies that move valuable intellectual property out of lenders' reach.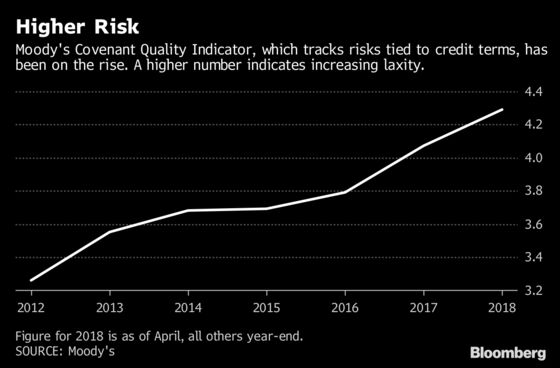 Even as they willingly lend to faltering companies, investors often grumble about debt-funded dividends for the sponsors, carve-out transactions and unwelcome bond exchanges. Those tactics aren't new; some have been around for decades, and buyout firms say they're justified by the high risk they assume when trying to turn around retailers that might otherwise die.
But Oaktree has said in court that Apollo went too far by using its "unfettered control" of Claire's to its own advantage. The group led by Aurelius contends in filings that Sycamore reserved the best parts of Nine West for itself. Representatives for Apollo, Claire's, Oaktree and Sycamore declined to comment. Aurelius didn't respond to messages.
"Over the past year, we have seen a handful of bond deals introduce, or try to introduce, a new avenue that companies could use to make uncapped intellectual property transfers to unrestricted subsidiaries," Moody's Investors Service analysts wrote in a May report. In some recent cases, lenders have pushed to close the loopholes before the debt deals are final, the analysts said.
Debtholders are still smarting over J. Crew Group's 2017 asset shuffle, which shunted the company's brand and other valuable holdings to a subsidiary that lenders couldn't touch. That maneuver is a model for what lenders don't want to happen to them. Creditors of PetSmart Inc. and Revlon Inc. have worried they may be next, and ratings firms have warned that more companies have credit agreements that leave debtholders vulnerable.
At Tops Friendly Markets, lower-ranking creditors of the bankrupt grocery chain, ranging from bankers to bakers, want to investigate the 2007 buyout, saying the private equity owners extracted more than $380 million in dividends, fees and other payments while adding debt.
While J. Crew is the retail debtor most closely identified with spiriting away intellectual property, Claire's actually did it first. The tween jewelry chain staged a 2016 debt overhaul that sent trademark rights to a European subsidiary, insulating the brands' value from from creditors.
Claire's, which is based in Pembroke Pines, Florida, then filed for Chapter 11 bankruptcy in March this year. Under the proposed restructuring deal, Apollo and the lenders get ownership of the reorganized Claire's and the chance to provide exit loans. The financing would require total payments of more than $1.5 billion to Apollo and allies in exchange for $575 million to finance a Claire's turnaround, the fund said.
Oaktree derided Apollo's initial exit financing plan as the "laughingstock of the distressed investing community," saying in court papers it unduly treats senior lenders including Apollo and Elliott Capital Management better than lower-ranking creditors.
Oaktree, which is run by Wintrob and whose founders include Howard Marks and Bruce Karsh, holds more than 70 percent of Claire's $220 million second-lien debt, according to court documents. Apollo holds an undisclosed amount of Claire's senior debt, which allows it to benefit from the proposed reorganization. Its allies, including Elliott and Monarch Alternative Capital, are the biggest senior lenders, with more than $970 million of the $1.4 billion in first-lien notes.
Aurelius is leading a group of unsecured creditors that allege similar flaws in Nine West's April bankruptcy, which they contend is rooted in how Sycamore managed the 2014 leveraged buyout of the shoe and fashion company. Sycamore issued debt through the company to take it private, but then bought three of the subsidiaries for Sycamore's direct ownership -- at what the group's lawyers say was a below-market rate.
Weekly Credit Brief: Private Equity Under Fire in Retail Restructuring
Sycamore sold two of the brands in 2015 and dealt the third back to Nine West in 2017, "reaping hundreds of millions of dollars of benefit," a lawyer for the Aurelius group said in a May 7 hearing. On top of that, the group claims a proposed $50 million bankruptcy loan is "exorbitantly expensive."
Aurelius holds about $164 million of Nine West's unsecured notes, a relatively small slice of Nine West's $1.6 billion in debt. But Aurelius's Brodsky has a reputation for being litigious, and his group includes sizable allies including mall operator Simon Property Group. The next hearing for Nine West is June 18; Claire's is scheduled for June 13.
Such disputes would be less likely if lenders pushed back harder on lax covenants allowing asset transfers, according to debt research firm Xtract Research.
"Deals should be negotiated to prevent these types of material transfers so that lenders don't have to sit at the edge of their seats waiting to see whether a borrower will take advantage," said Jenny Warshafsky, an Xtract covenant analyst.