New York to Ease School Rules; N.J. Ends Emergency: Virus Update
New York state plans to let school districts waive the mask mandate for students' outdoor activities next week. More than 70% of adults in California have gotten at least one dose of a Covid-19 vaccine ahead of full reopening on June 15.
New Jersey ended its 15-month public health emergency in what Governor Phil Murphy called a "decisive step on the path toward normalcy." Mexico City will gradually ease restrictions during June, allowing schools, convention centers and music venues to reopen.
The U.S. is sticking with plans to increase global vaccine dose donations to 80 million after an initial 25 million announced this week, according to the State Department's Covid response coordinator.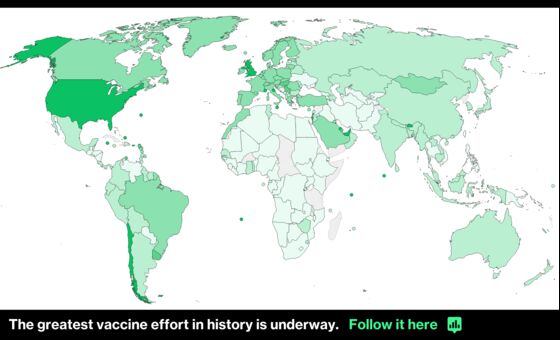 U.S. Plans More Global Vaccine Donations in Months Ahead (5:26 p.m. NY)
The U.S. government plans to provide more vaccine donations in the months ahead and is counting on the authorization of AstraZeneca Plc doses that are stuck in a safety review, a State Department official said.
Distribution of an initial 25 million doses worldwide is based on maximizing global coverage, addressing surges and heading off others, and responding to requests from abroad, Gayle Smith, the State Department's coordinator for global Covid response and health security, told reporters Friday.
"We will continue this three-part strategy to maximize supply," she said.
The White House has stuck by Biden's pledge to donate at least 80 million doses in June, a pledge built initially on the availability of 60 million AstraZeneca doses. Smith said the administration is still expecting the AstraZeneca doses to be cleared by the Food and Drug Administration, but wouldn't intervene in the process.
The U.S. expects the balance of the 80 million doses, or about 55 million more, will come from the AstraZeneca stockpile, she said.
Putin Marks Start of Sputnik Shot Production in Argentina (4:10 p.m. NY)
Presidents Vladimir Putin and Alberto Fernandez marked the start of Sputnik V vaccine production at Laboratorios Richmond SA in Argentina. The country has received 8.9 million doses of the Russian-developed vaccine this year, accounting for nearly half of its supply.
"In Argentina, we say we get to know our friends in difficult times," Fernandez said during a webcast with the Russian president.
Putin called Sputnik "one of the world's most effective vaccines, with a 97.6%" efficacy, according to a summary provided by Fernandez's office.
Trumka Hits Biden on Delayed Federal Rules to Protect Workers (2:35 p.m. NY)
The Biden administration has taken too long to implement Occupational Safety and Health Administration emergency regulations to ensure on-the-job protections for workers during the Covid-19 pandemic, said AFL-CIO President Richard Trumka.
"I keep pushing the administration to get it done. They keep saying they're working on it, but I have yet to see that temporary pandemic standard be issued," the labor leader said in an interview Friday on Bloomberg Television's "Balance of Power" program.
New York to Allow School Districts to Ease Mask Mandates (2:25 p.m. NY)
New York on Monday plans to allow school districts to waive the mask mandate for students outside of the building, State Health Commissioner Howard Zucker said.
Zucker on Friday wrote a letter to the Centers for Disease Control and Prevention citing concerns over inconsistencies in the guidance between children who are unvaccinated at summer camps and rules for unvaccinated children at schools, according to a news release. Many summer camps take place on school grounds.
Zucker told CDC Director Rochelle P. Walensky the state will align its camp and school guidance unless the CDC advises otherwise. The wearing of masks outside will be "encouraged" in high-risk circumstances, but not required for unvaccinated students, campers and staff, according to the letter.
California Vaccinations Reach 70% of Adults With Reopen Ahead (1:50 p.m. NY)
More than 70% of California's adult population has received at least one dose of a Covid-19 vaccine, Governor Gavin Newsom said, as the state prepares to fully reopen June 15.
Most of the restrictions will be lifted by that date, though there are no plans to lift the state of emergency immediately. "We're mindful that this disease is not 100% behind us," Newsom said, adding that masks remain "an important part of our arsenal."
The state drew 15 winners who each won a $50,000 cash price that's part of a program to entice Californians to get vaccinated before the reopening.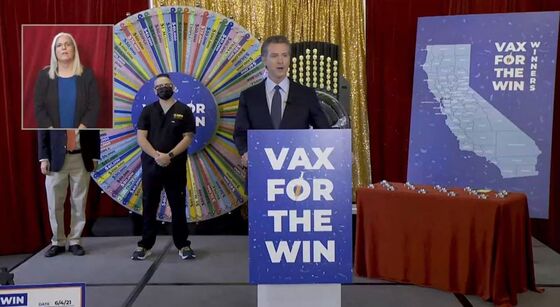 Mexico City Will Reopen for Conventions, Concerts This Month (1 p.m. NY)
Mexico City is reopening schools, convention centers and concert halls this month as Covid-19 cases and deaths reached their lowest levels in over a year.
Soccer stadiums and movie theaters will be able to fill half their seats and gyms will hold classes, in a gradual return over the course of this month. Surrounding the capital, Mexico state, the nation's most populous, has also reduced its Covid restrictions to the lowest level, or "code green."
Seychelles Seeks Answers to Surge That Defied Vaccine Success (12:28 p.m. NY)
Seychelles, where cases have surged despite the country's world-leading share of vaccinated residents, expects to know the results of analysis of virus samples sent to a Kenyan institute in about two weeks.
A World Health Organization team has also been working with the island nation of 98,000's health ministry for the last few weeks, Public Health Commissioner Jude Gedeon said.
CDC Cites Hospitalization Risk for Adolescents, Urges Masks (12:11 p.m. NY)
Almost one-third of adolescents hospitalized with Covid-19 in the U.S. ended up in intensive care units in the first quarter, and 5% needed machines to help them breathe, the Centers for Disease Control and Prevention said in a report.
CDC Director Rochelle Walensky said she's "deeply concerned" by Friday's data and encouraged adolescents to continue to wear masks until they're fully vaccinated.
Russia Reports More Than 20,000 Covid Deaths Last Month (12:07 p.m. NY)
Russia revised its Covid-19 death toll for April to 20,323, an increase of 80% from early official reports, compared with 24,042 in March, according to the Federal Statistics Service. The data include people who were infected with the virus when it was not regarded as the cause of death.
President Vladimir Putin's appeals for the public to protect against the virus using domestically-developed vaccines are meeting widespread skepticism. More than 270,000 people have died of the disease in Russia since the virus emerged.
N.J. Ends Emergency, Extends Its Foreclosure Protection (11:56 a.m. NY)
Governor Phil Murphy signed legislation to end New Jersey's 15-month public health emergency, affirming the lifting of most major restrictions that included indoor masking, social distancing and crowd limits.
It's "a clear and decisive step on the path toward normalcy," Murphy said in a statement.
Businesses, including retail shops, still may require patrons to follow masking and other virus-safety protocols, and precautions remain in places including public transportation, hospitals and schools.
The law also stipulates that the governor will continue to oversee the pandemic response, including vaccination. It delayed until Jan. 1 the removal of renters and property homeowners subject to eviction or foreclosure proceedings.
Carlyle, Warburg to Require Covid-19 Shots for Return to Office (11:25 a.m. NY)
Carlyle Group Inc., a private-equity firm that oversees $260 billion of assets, and Warburg Pincus, with $60 billion, have told U.S. employees they'll need Covid-19 vaccinations to return to the office in September, according to people familiar with the plans.
They're among the first financial-services companies to demand that employees get vaccinated in order to work in the office.
First U.S. Shipment of Donated Vaccines Headed to South Korea (10:30 a.m. NY)
One million doses of donated U.S. vaccine are due to arrive in South Korea on Saturday morning, the first of 25 million the Biden administration said it's distributing to regions around the world.
The Johnson & Johnson shots were shipped from the U.S. late Thursday, State Department spokesman Ned Price said on Twitter. "The friendship between our two countries runs deep, especially in times of great need," he said.
Namibia Reports Record Infections, Warns on Oxygen Supply (10:07 a.m. NY)
Namibia reported a record 717 new cases in a day and Health Minister Kalumbi Shangula said hospitalizations and deaths have risen sharply.
The surge "is an indication that the public is not strictly following the Covid-19 infection prevention and control measures," Shangula said Friday. The country's supply of medical oxygen is under pressure, according to the Health Ministry.