Big Builders Jump Into 'Financing Gap' to Fuel NYC Construction Boom
(Bloomberg) -- New York developer Silverstein Properties Inc. built a $4 billion pipeline of real estate deals just weeks after starting. None of the money was for buildings it will own.
The developer of prominent New York city skyscrapers such as 3 World Trade Center has jumped into property lending as demand for financing grows and yields are more attractive. Silverstein set up its first lending venture earlier this month and already has a slew of potential deals going to projects in New York City. Others, including Oxford Properties Group, also have big plans to finance other builders.
"Supply and demand characteristics in New York and throughout the country are good -- we think that there's years to run in this cycle," Michael May, president of Silverstein's new lending venture, said in a telephone interview. "In New York, the dollars are big enough and Silverstein's footprint here is big enough that I think we could run the entire business just doing New York if we wanted to."
As big banks have pulled back, a flood of more lightly regulated non-banks has rushed in to fill the void across industries. In real estate, that includes debt funds, mortgage REITs and developers, often backed by private equity or other institutional capital. Property research firm Green Street Advisors LLC estimates that U.S. originations by these lenders surged more than 40 percent in 2017 compared with the year before to almost $60 billion, and should rival that of life insurance companies and commercial mortgage-backed securities this year.
The opportunity is partly due to what Silverstein sees as a "gap in financing" that has its origins in the 2008 financial crisis. Since then, large banking institutions have faced heightened regulation and become more stringent in underwriting projects. That has taken a toll on their ability to lend to the construction industry, where there tend to be more risks and higher costs.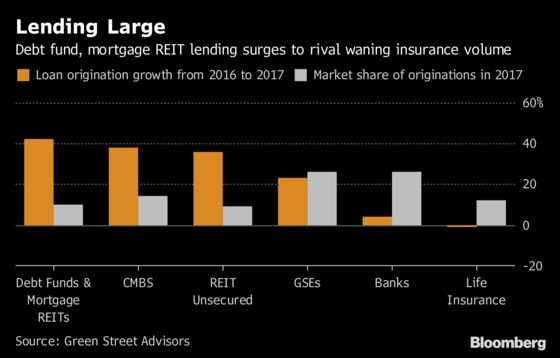 "You end up with accounting treatment reserves and with regulatory capital treatment on a lot of these asset classes, which has become extremely challenging for banks," said May, who had previously worked at Credit Suisse Group AG and Cantor Commercial Real Estate Lending LP, overseeing the origination and distribution of real estate products. "We can be more nimble, move more quickly and we're not impeded by an overlay of rules and regulations that challenge our assessment of risk."
Silverstein hasn't closed on any lending deals yet. The company is also looking at financing projects in other U.S. markets including Los Angeles, Seattle and Boston.
Big Money
Blackstone Mortgage Trust Inc., managed by a subsidiary of Blackstone Group LP, the biggest private-equity real estate investor, originated a $1.8 billion construction loan earlier this year for an office tower in Manhattan's Hudson Yards.
Silverstein's lending platform is backed by a sovereign wealth fund and a pension fund with "deep pockets" and has no maximum loan amount.
Then there's Oxford, the property unit of Canadian pension fund OMERS, which has invested more than $3 billion in loans and plans to more than double that amount in three years.
Ares Faces Onslaught of Rivals After Pioneering Direct Lending
A key opportunity for Silverstein is lending to projects that are too pricey from an equity perspective. The returns they get are still attractive, but less risky, May said.
"There's a lot of demand for capital and there's a lot of good quality assets being built, but maybe at pricing that we think is higher than we would want to operate," May said. "Those projects need capital, in a spot where we're very comfortable lending."
Foreign investors have also been betting on higher-risk loans to developers as increases in Libor, a major benchmark for global interest rates, make yields on U.S. developments more attractive, and help add liquidity to the debt market -- more than "at any point in this cycle," said Aaron Appel, Jones Lang LaSalle Inc.'s vice chairman and head of New York City capital markets debt & equity.
"Despite the political environment, the U.S. is still the most stable place to invest globally of any country." He added that national property rights laws and federal efforts to elongate current economic growth have also favored foreign investment.
Debt fund investors believe that "if there's a decline in asset values, the lender is more protected than the equity investor," Dave Bragg, managing director at Green Street, said by phone. "The incentive for many players is the perception that returns on debt are higher than what one could underwrite on the acquisitions of real estate today."