Nuclear Missile Upgrade Could Deliver $13 Billion to Northrop
(Bloomberg) -- Northrop Grumman Corp. will receive as much as $13 billion in research spending through 2025 as the sole contractor on the Air Force's replacement program for the aging Minuteman III intercontinental ballistic missile.
The Air Force's $1.5 billion request for the fiscal year starting Oct. 1 is up from $500 million this year, according to budget documents. The request grows to $2.5 billion in 2022 and $3 billion in 2023, staying at that level through 2025, after which $7.3 billion is estimated to be needed to complete the research phase.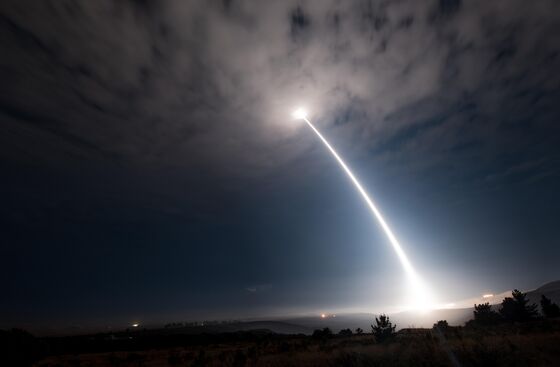 The ICBM program's roughly $61 billion procurement phase starts in 2026, according to the service. The missile upgrade program is just one part of a trillion-dollar effort to modernize the U.S.'s sea-air-land nuclear triad over the next 30 years, including maintenance and support.
"The significant increase in funding" through 2025 "is to execute the engineering and and manufacturing development contract to advance" the program's "major activities to include systems engineering, information technologies" and data management, according to the Air Force document.
The service budget documents say the first new missile may be delivered in 2029.
The service intends to award the development contract between July and the end of September. Although the Air Force has consistently declined to identify Falls Church, Virginia-based Northrop Grumman as the sole bidder, the Pentagon's fiscal 2021 weapons budget book lists the company as the contractor. Boeing Co. declined to bid on the program, citing competitive disadvantages.
"The Air Force is executing the current acquisition strategy and does not intend to reopen bidding," Captain Clay Lancaster, an Air Force spokesman, said in an email.
Defense Secretary Mark Esper is scheduled to travel Wednesday to Strategic Command headquarters at Offutt Air Force Base near Omaha, Nebraska and Minot Air Base in North Dakota, where some Minutemen ICBMs of the 91st Missile Wing are siloed. Strategic Command has operational control of the American ICBM force.