Nuclear Developers Dust Off Plans for More Reactors in U.K.
Nuclear power developers are refreshing plans for new reactors in the U.K. after speculation that the government could be willing to support building more plants than the industry had been expecting.
A little-noticed paper issued by the Treasury on Nov. 25 said it is important that the U.K. can "maintain options by pursuing additional large-scale nuclear projects," assuming they can be done in a cost-effective way. That wording, with a notable plural on the word "projects," went beyond a recommendation made two years ago that Britain should build only one more major atomic facility.
After years of waiting for a signal, the document was read by nuclear industry executives as evidence that energy policy could be shifting their way. They anticipate the government may soon look more favorably on nuclear after more than a decade of tilting toward renewables. Electricite de France SA, Hitachi Ltd. and China General Nuclear Power Corp. are looking at ways to revive designs that were shelved in the past few years.
"Large-scale projects have a bright future in Britain if the government backs a financing model to cut the cost of capital," said Tom Greatrex, chief executive officer of the Nuclear Industry Association. "There are a number of viable sites. We need low-carbon power that we can count on to fill the gaps when the wind is down."
For its part, government insists its policy on nuclear hasn't changed -- even with all the debate about exiting the European Union. It's allowing EDF to seek planning permission for the Sizewell plant in east England, but ministers have been quiet about what, if any, further plants might win favor.
"The government believes that nuclear has a key role in our future energy system," a spokesperson at the department for Business Energy and Industrial Strategy said. "The energy white paper will set out further information on the government's future plans for energy."
Britain is likely to need nuclear to meet net-zero emissions goals even in the event of a no deal Brexit. By 2035, all of the U.K.'s eight existing nuclear plants are due to retire from service. They supply almost a fifth of the nation's electricity.
The mood in industry has shifted quickly. As recently as Nov. 18, nuclear developers were disappointed that Prime Minister Boris Johnson's 10-point plan for a green industrial revolution didn't include thinking on large-scale reactors. Then, ministers pledged to release fresh thinking in the form of a white paper which may include details on a possible funding mechanism for nuclear projects, each of which require $20 billion or more. That paper is due within the next few weeks.
Before the Treasury's paper on Nov. 25, it was widely believed the government would accept the advice of the National Infrastructure Commission, which in 2018 suggested one more major plant should be built beyond one EDF is constructing at Hinkley Point. Instead, the Treasury noted a need to create low-carbon sources of electricity to meet growing demand.
To the industry, that's a shifting of the blockage they've felt from government. While ministers opened new paths to finance and permit offshore wind farms, they allowed a number of nuclear developments to slip off the agenda. A perception took hold that renewables were favored because they're increasingly cheaper and quicker to build than nuclear plants.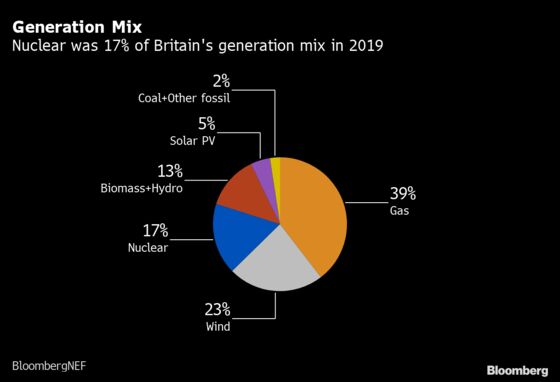 Now, the government is promising more detail for the industry on how it plans to finance nuclear, giving executives hopes that work at more sites might be viable.
One of the biggest question marks is whether China will be able to move ahead with a long-planned reactor in the U.K. despite a political chill toward investment from that nation. Under pressure from the U.S., the government has clamped down on the spread of 5G mobile technology from Huawei Technologies Ltd.
China General Nuclear's Chief Executive Officer Rob Davies said the company is willing to self-finance the Bradwell B project in southeast England. His remark suggests the company would take a market power price for electricity sold from the plant, a break from EDF's move at Hinkley Point to secure a long-term contract before moving ahead.
The project would be a Chinese-designed reactor, called HPR1000. It would showcase the nation's technical skill in Europe. Davies said CGN is committed to nuclear development in the U.K. regardless of the political winds.
"We plan to maintain our support for Hinkley Point C, to help Sizewell C to reach a Final Investment Decision, to complete the general design assessment for the HPR1000 and to continue with Bradwell. That's our plan and that's our offer to the U.K. And we'll self finance," he said at an industry event this month.
The CEO of Hitachi Ltd.'s Horizon Nuclear Power Ltd. subsidiary said he's lining up a project for the Wylfa site in Wales. His remark is an indication that the project may still be revived even after Hitachi exited it in September after failing to agree on financing.
Horizon is open to nuclear developments both large and small on the Wylfa site and Duncan Hawthorne said he's "confident that one of those solutions will emerge" after the publication of the white paper.
"We have a very viable offering we can put on the Wylfa site that would allow the site to move pretty seamlessly from the Advanced Boiling Water Reactor solution to another technology solution and broadly offer the same timetable and the same commercial offering to government," he said, without saying what the project will be.
In June, EDF revamped plans for the Moorside site in Cumbria that Toshiba Corp. pulled out of in 2018. The proposed Clean Energy Hub includes a large nuclear plant, the same design as Hinkley Point and Sizewell, small modular reactors and advanced modular reactors.
"Ultimately it's for government policy as to how many reactors they want and whether or not they want one technology or they want two technologies," said Julia Pyke, director of financing for Sizewell at EDF. "We would love to build another U.K. European Pressurized Reactor at Moorside, and it would, of course, get cheaper because each time you do something you learn how to do it better."
Not all of these projects will be built. In the U.K., EDF is building the Hinkley Point C nuclear plant in Somerset and next in line is the Sizewell site in Essex northeast of London. The government is keen on small modular reactors that are quicker to build and cheaper. If it gets enough of those, there may not be a need for any more large scale stations. That's what policy makers will hope to avoid tying themselves into.
| | | | | |
| --- | --- | --- | --- | --- |
| Project Name | Size (GW) | Partners | Status | Comments |
| Hinkley Point C | 3.2 | EDF, CGN | Under construction | On track to start generating 2025, costing 22.5 billion pounds. Construction financed by EDF. Government guaranteed price for power sold from plant. |
| Sizewell C | 3.2 | EDF, CGN | In planning process | Reactor design based on Hinkley plant. EDF looking for ways to fund it without shouldering all the risk. It's seeking to combine government and private funding. Construction due to start 2021. Electricity flows from 2031. |
| Bradwell | 2.3 | CGN | Early technical stages | Seeking government approval for a Chinese reactor design. China's ownership of a major infrastructure project likely to be politically sensitive. |
| Wylfa | 2.9 | Hitachi | Shelved | Company was unable to reach financing agreement with U.K. government. Was due to start generating in mid-2020s. |
| Oldbury | 2.9 | Hitachi | Shelved | Project in very early development stages. Site identified but no applications had been made for regulatory approvals. |
| Moorside | 3 | Toshiba | Shelved | Decision to halt project came after failed attempts by Toshiba to sell its stake. No financing agreement was in place with the government. Was due to start operating in 2025. |
Just four years ago, nuclear reactors were at the heart of the government's clean-energy program. Both Labour and Conservative governments backed measures to replace the eight existing plants that supply up to a fifth of the U.K.'s electricity.
"While large nuclear installations are an important part of the national strategy, there are a limited number of suitable sites in the U.K.," Vince Zabielski, a lawyer at Pillsbury Winthrop Shaw Pittman LLP, said. "A sensible mix of both nuclear and renewables is the middle path that is most likely to lead to a carbon-free future."
Britain's Aging Nuclear Plants
Name of Plant
Scheduled

closure

Hunterston B
December 2021
Hinkley Point B
July 2022
Heysham 1
2024
Hartlepool
2024
Dungeness B
2028
Heysham 2
2030
Torness
2030
Sizewell B
2035