The Great Dismantling of Siemens Gains Pace With Power Spinoff
(Bloomberg) -- Roughly a year after taking over as chief executive officer of Siemens AG, Joe Kaeser made a bold statement: whatever happens, the German industrial icon will endure. But after a flurry of disposals over the ensuing half-decade, what exactly defines the company is becoming increasingly opaque.
The latest move was his announcement to carve out the sprawling power assets -- the deepest cut yet to the core of the manufacturing conglomerate, a German household name that signifies the country's engineering prowess like few others. Investors cheered, sending Siemens up as much as 5.5 percent, the most in two years. Analysts at JPMorgan called the move "the biggest corporate change at Siemens" since it exited telecoms equipment more than a decade ago.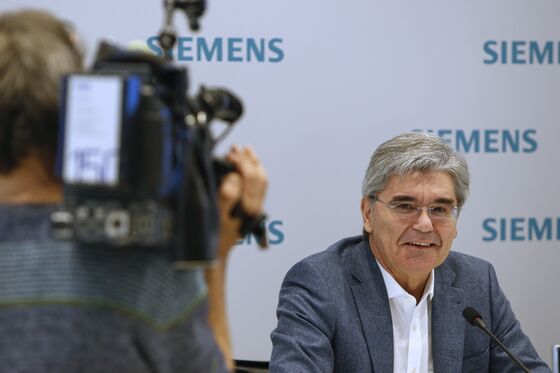 Over its more than 170 years, Siemens has reinvented itself multiple times, but the pace of transformation has quickened considerably as pressure mounts from the emergence of digital technologies and new competitors in Asia. The power businesses -- the backbone of the Munich-based company for decades -- will now be listed by September 2020, marking a milestone in the company's makeover.
The deconsolidation of the 30 billion-euro power division is "a major step in the history of the company, as Siemens moves further toward a 'break up' scenario," said Ben Uglow, a London-based analyst with Morgan Stanley. "Management is doing what many companies struggle to do in more forgiving labor environments."
Dismantling an Icon
Since Kaeser took charge in 2013, there has been a flurry of spinoffs, carveouts and joint ventures at the German giant
May 2014: Siemens slims its divisions to nine from 16; carves out health care and announces listing of hearing aid business
September 2014: Siemens sells stake in kitchen and washing machine business to Bosch
November 2014: Sells hearing-aid unit to EQT for 2.14 billion euros ($2.4 billion)
June 2016: Announces merger of wind power division to form Siemens Gamesa 
November 2016: Announces Siemens Healthineers will be brought to market 
February 2019: Plan to form rail joint venture with France's Alstom is blocked by European authorities
May 2019: Siemens announces plan to carve out power and gas businesses
At the height of its conglomerate structure, Siemens products could be found almost everywhere. On the consumer side, there were light bulbs, hearing aids, televisions, mobile phones, and even screwdrivers. Factories ran on Siemens automation equipment, phone companies bought its networks, hospitals were kitted out with medical scanners, and Siemens power lines electrified cities that were connected with its high-speed trains and city trams.
The logic was that one ailing business would be propped up by the others, and that there was massive scope for cross-selling and cross-engineering. Siemens was among the largest employers in Germany, and its leaders the de-facto corporate ambassadors for Europe's dominant economy.
But at the dawn of the new millennium, a fundamental rethink took hold in the corporate suites on Wittelsbacher Platz, the neoclassical city palace in the heart of Munich that houses the company's headquarters. Instead of trying to keep its many plates spinning, Siemens began spinning off valuable assets. Among the first to go were the semiconductor business that it renamed Infineon Technologies AG and listed in 2000, quickly followed by the Epcos electronic components unit.
Some investors at the time wanted Siemens to be even more aggressive and unload its industrial and power assets to become a streamlined technology and telecommunications giant. But the CEO at the time, Heinrich von Pierer -- a Siemens lifer who had run the energy division before assuming the top job -- disagreed, arguing that a broader footprint would shield the company from unforeseen swings in its businesses.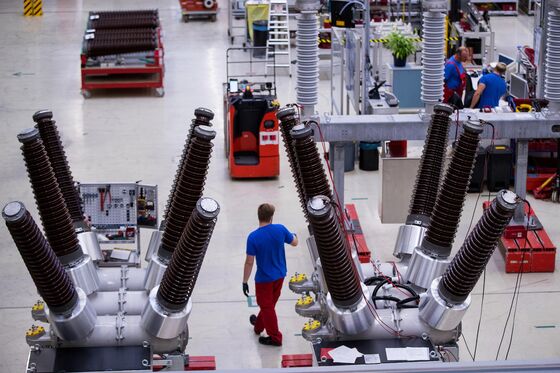 His resistance to a deeper breakup helped Siemens weather the steep decline of telecoms assets in the following years. Heavily losses ultimately led to a clean break with communications networks -- the nucleus of Siemens since the company's creation. Siemens also sold its ailing mobile-phone business, once in the global Top 5, moving the company further away from consumers.
The German company isn't alone in taking apart its sprawling structure. Fellow conglomerates General Electric Co. and Royal Philips NV have also spent the last years whittling back their portfolios.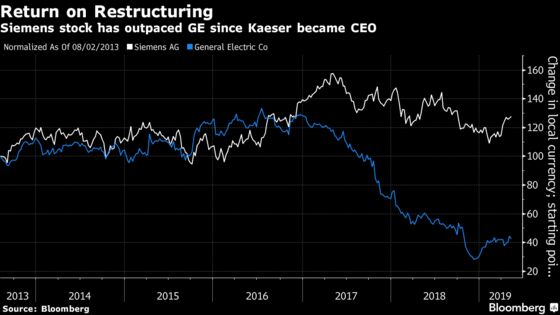 Under Kaeser -- previously Siemens's head of strategy and chief financial officer before taking the top job in 2013 -- the pace of disposals has quickened. Siemens sold its remaining stake in former lighting unit Osram Licht AG in October 2017. The medical devices unit -- with the slightly bizarre name Siemens Healthineers AG -- listed in March 2018.
Not everything's worked. Kaeser's effort to create a European rail champion with France's Alstom SA was scuppered by regulators earlier this year. While the separation fell short, it's a sign of how serious Kaeser is about transforming the company from a sluggish aircraft carrier into a fleet of more nimble and specialized boats, as the CEO describes it.
"It's about the next steps of a business that is fundamentally changing," Kaeser told reporters in Munich after announcing the latest separation. "The highest priority is the stabilization of a business that at its core is still feasible."