November M&A Surge Pushes 2019's Totals Nearer Last Year's Mark
(Bloomberg) -- A surge of global deals in the past week has helped put mergers and acquisitions on track to approach and perhaps even top last year's totals.
Globally, 2019 is already the sixth-best year of the past 20, according to data compiled by Bloomberg. The 26,321 pending and completed transactions announced this year total $2.73 trillion, compared with 30,225 amounting to $3.07 trillion in 2018, the data show.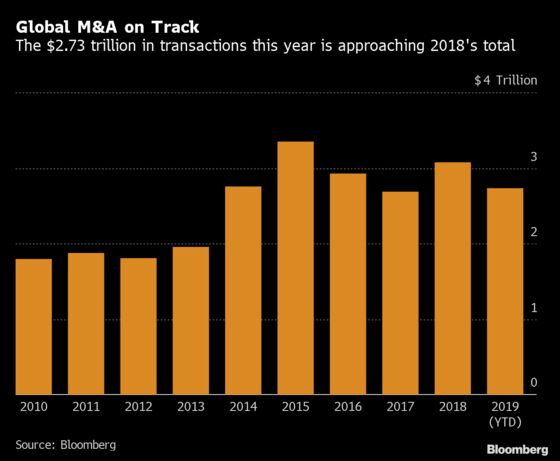 A surge of deals to start the past week added more than $70 billion, with Charles Schwab Corp.'s $26 billion buyout of discount brokerage TD Ameritrade Holding Corp. leading the pack. Luxury goods giant LVMH, Swiss drugmaker Novartis AG and Japanese conglomerate Mitsubishi Corp. were also among the companies that announced multibillion-dollar transactions.
Cross-border deals haven't fared as well amid political tensions and trade restrictions. Those transactions have totaled about $1 trillion this year, significantly below the $1.39 trillion that accounted for almost half of all deals last year.
Still, concerns such as Brexit and the U.S.-China trade war are offset by the stockpiles of cash held by both private equity firms and potential strategic buyers, said M&A lawyer Christopher Moore, a Hogan Lovells partner.
"People have internalized the risks associated with those events and have factored those risks into their decision making already," Moore said.
"There's no shortage of money to buy companies," he said. "I don't see a slowdown."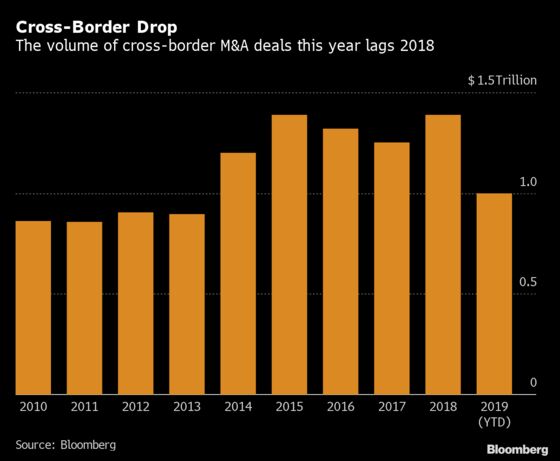 Cross-border acquisitions of U.S. targets are down, with the total value of deals so far this year shrinking 23% to $334 billion from the same period in 2018, according to the data. Those that have gone ahead have rewarded investors in public companies with an average premium of 44%, compared with 24% for all deals globally.