Novartis Gets Key Therapy -- For Almost 200 Times Its Last Price
(Bloomberg) -- One year ago, a German company called ABX sold the rights to a prostate cancer treatment for $12 million. On Thursday, Novartis AG agreed to pay almost 200 times that amount for the drug's current owner, Endocyte Inc.
The experimental therapy is the centerpiece of Novartis's $2.1 billion planned takeover of U.S.-based Endocyte. It pairs tumor-killing radiation with molecules that target diseased cells, and Novartis Chief Executive Officer Vas Narasimhan says it has blockbuster potential.
The pinpoint-radiation approach is one of three key areas, along with cell and gene therapies, where Novartis is keen to expand, and Narasimhan signaled that he hasn't finished raising the drugmaker's profile in those fields. The company remains interested in bolt-on acquisitions, he said.
"We believe we need to move into advanced-therapy platforms," Narasimhan said in an interview on Bloomberg Television. The Endocyte transaction "will give us the global footprint, capability and portfolio to really own" the so-called radioligand sector, he said.
Endocyte's therapy, known as Lu-PSMA-617, has progressed to final-stage testing in men who have limited treatment options, and it may reach the market in 2021, Novartis said. It uses a small molecule to aim a radioactive cancer drug at a target, called PSMA, that's found in high concentrations on the surface of diseased cells.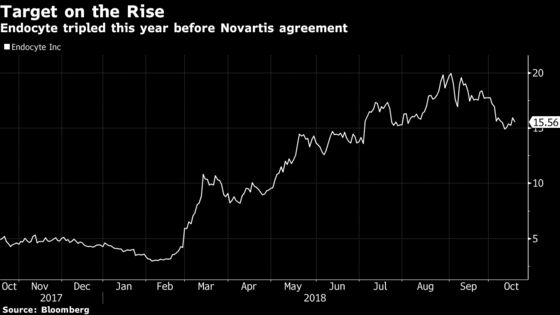 "Would I have preferred to get it a year ago?" Narasimhan said in an interview. "Of course."
Endocyte will also add to Novartis's efforts in CAR-T, the technology that alters patients' immune cells to attack cancers. The U.S. company has a research program looking at ways to use CAR-T to target multiple tumors and is investigating the therapy in people with a form of bone cancer called osteosarcoma.
When Endocyte bought the prostate cancer drug in October 2017, CEO Mike Sherman called it "transformational," saying it had the potential to be first in its class and would speed the company's path to commercialization.
At that time, Novartis had not yet made its foray into the radiotherapy field. Then, the drugmaker announced an agreement to purchase Advanced Accelerator Applications SA, another radiopharmaceutical company, for about $3.9 billion in cash.
While Novartis had been eyeing other potential acquisitions at the same time as Endocyte, the company stood out because of the prostate therapy, "the next big opportunity in radiotherapy," Narasimhan said. The global market for prostate cancer treatments will reach about $11 billion in 2024, according to a Novartis estimate.
The key that pushed Novartis to act was the U.S. Food and Drug Administration's recent acceptance of Endocyte's approach to testing, smoothing the path to approval.
"That's far ahead of any other competitor," he said. "That was the moment in time when we said, look, we want to own this space."