A Tiny French Company Got WHO Approval to Sell Covid-19 Tests. Its Shares Are Up 1,600%
(Bloomberg) -- Novacyt SA shares extended their year-to-date surge to more than 1,600% after the company's Covid-19 test was listed as eligible for procurement by the World Health Organization.
The stock jumped as much as 22% on the Euronext Growth market in Paris as Novacyt said its diagnostics kit would be available for a year following an emergency process by WHO. The company has a market capitalization of 197 million euros ($214 million).
Novacyt, which is also listed on the London junior market, AIM, has been soaring since the end of January when it announced the launch of its molecular test that has the ability to detect only the 2019 strain of the virus. Other tests are less specific, giving rise to false diagnosis, the company said at the time. But getting drugs on the market is a notoriously tricky business and scientists have cautioned against finding a fast cure.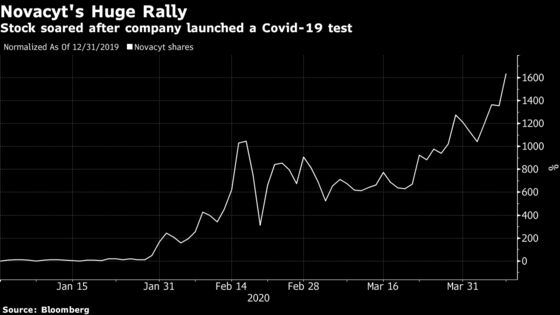 Novacyt also announced on Wednesday a collaboration with AstraZeneca Plc and GlaxoSmithKline Plc on a new facility at the University of Cambridge, England as the U.K. government seeks to ramp-up its testing.