Lucky Strike CEO's Tenure Marked by Bad Timing
(Bloomberg) -- Just like some of his biggest deals, the retirement of British American Tobacco Plc Chief Executive Officer Nicandro Durante doesn't come at the best of times.
BAT shares have fallen 29 percent in the past year, trimming gains during Durante's more than seven-year tenure to 45 percent. Much of that has been down to the unfortunate timing of the biggest acquisition of his reign.
READ: BAT CEO to Retire Next Year as Tobacco Industry Faces Turmoil
Last July's $55 billion purchase of Reynolds American was completed only days before a U.S. Food and Drug Administration proposal to lower nicotine in cigarettes to non-addictive levels, sending tobacco stock prices tumbling.
That wasn't the first time Durante's luck was out. BAT's $2.4 billion buyout of its Brazilian Souza Cruz unit in 2015 preceded a period of major weakness in Brazil's economy. The upshot has been a stock price that's failed to repeat the 220 percent uplift during predecessor Paul Adams's seven years in charge.
While Durante's deals "showed a lack of timing," the changing macroeconomic and regulatory environments were "self-evidently outside of the company's control," said Investec analysts Alicia Forry and Eddy Hargreaves.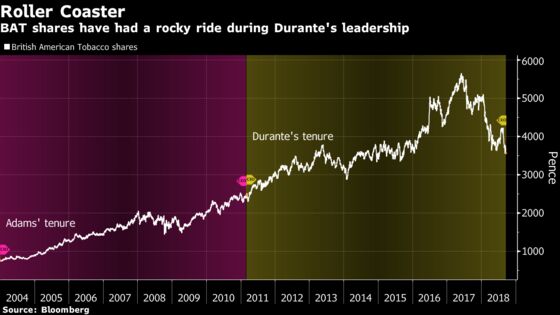 As the CEO prepares to hand over to an as-yet unidentified successor next April, sentiment towards BAT is "worse than we have ever known it," with the tobacco sector "in the midst of unprecedented change," according to Jefferies analyst Owen Bennett.