Not Even Debt Swelling to $35 Billion Fazes Eskom's Bondholders
(Bloomberg) -- Bondholders of Eskom Holdings SOC Ltd. appear to be taking South Africa's President Cyril Ramaphosa at his word.
Even as data showed the state-owned power utility's debt is approaching $35 billion, yields on the company's dollar bonds ticked lower on Wednesday as investors bet the government would step in to prevent any chance of a default.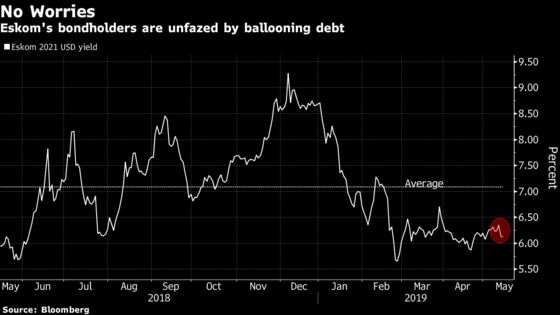 "Eskom is too big to fail," Ramaphosa said at an investor conference organized by Goldman Sachs Group Inc. in Johannesburg, his first engagement with businesses since he won a five-year term in May 8 elections. "If Eskom fails, this economy fails."
Yields on Eskom's $1.75 billion of 2021 securities dropped three basis points to 6.31%, and are trading well below the average of 7.24% over the past year. The yield is down 14 basis points since May 8, when Ramaphosa's ruling African National Congress won a majority in parliamentary elections. Rates on dollar bonds due 2023, 2025 and 2028 also declined.
Eskom's dollar bonds are rated CCC+ at S&P Global Ratings, seven levels below investment grade and five steps lower than South Africa's sovereign assessment.