Not Even Carbon at 200 Euros Can Make Green Hydrogen Competitive
(Bloomberg) -- Even if European carbon prices more than tripled to 200 euros ($236), hydrogen from renewable energy would still struggle to compete with fossil fuels without further government support.
That's the conclusion from research by consultants at Guidehouse and published by German think tank Agora Energiewende. To make the average renewable hydrogen project competitive with a fossil alternative will require annual subsidies of as much as 24 billion euros this decade, they said.
Transitioning more of Europe's polluting economy to run on hydrogen is a crucial part of the bloc's plan to eliminate carbon emissions by the middle of the century. The research highlights how significant a challenge the transition away from polluting energy sources will be.
Hydrogen could help cut carbon emissions from industries such as steel making, shipping and aviation, but making the gas with renewable sources is much more expensive than the kind made with natural gas that's commonly used in oil refining and to make fertilizers.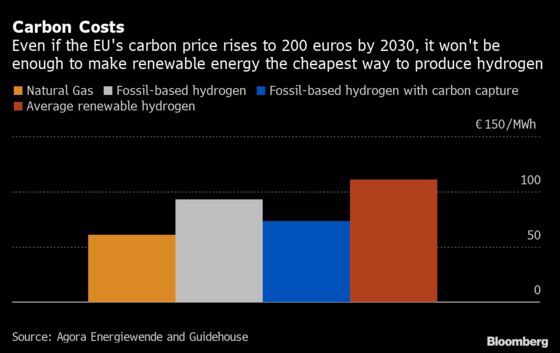 As demand for renewable hydrogen is poised to surge and the industry scales up, costs will likely fall. Some companies, including Denmark's Haldor Topsoe AS and Norway's Nel ASA, that aim to profit from the growth have estimated that hydrogen made from wind or solar power could be cost competitive with the fossil fuel-based alternative as soon as 2025.
While that may be possible at the most ideal sites, it's not clear how much hydrogen could actually be produced at those locations, according to Matthias Deutsch, senior associate at Agora Energiewende. Beyond 2030, the reliance on subsidies should wane.
"There is a cost gap and we need to bridge it with taxpayer money," Deutsch said in an interview.
How the governments allocates money for renewable hydrogen will be crucial, according to the study. It will take a significant increase in green energy capacity to produce enough hydrogen to satisfy the various potential sources of demand. It would be more efficient to just use the electricity directly wherever possible than to first convert it into hydrogen, losing some of the energy in the process.
Applications like steel and ammonia production, long-haul aviation and long-term storage of renewable electricity, are among what Agora called the least controversial uses for renewable hydrogen because they don't have alternatives to full decarbonization. That's unlike passenger cars, light-duty trucks and heating for individual buildings that do have ways to decarbonize other than hydrogen.